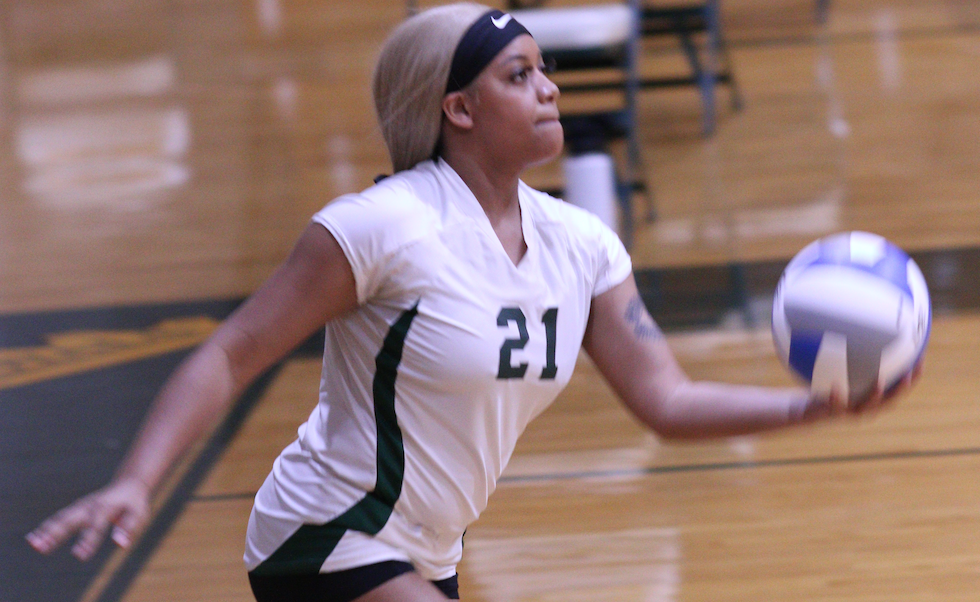 Girls Volleyball Remains Undefeated With Win Over Dale 3-2
As the ball rolled back to setter Kassidy Reed to serve at 15-14 in the last game of the night, she knew that with the game as tense as it was, a strong serve in the middle of the court could prove to be tough to return.
When the ball landed in the middle of the court after some defensive confusion by the Knights, the long, much contested match was over at 16-14 with the Royals being victorious. The final score was Prince George 3 Thomas Dale 2.
Another key server in the match was senior Azaria Atkins who was able to score several points on her serve in the early part of game three when the Royals were down and in danger of losing the match.
"In the third set my mind was everywhere but my main focus was to keep my eyes on the prize and to realize the game wasn't over yet," Atkins said.
Another key contributor on offense for the Royals was middle blocker senior Grace Peterson. She led the team in kills for the night and at times seemed unblockable. She had several kills in the 5th and deciding game.
"She was our key player during the time of need and every pass, set, and hit was important. We knew she would pull through," Atkins said.
With the win over Dale, there remains only one team in the Central District who the Royals have yet to play. The team faces Petersburg next week and the will begin to play the five teams again to close out their brief season.
About Author