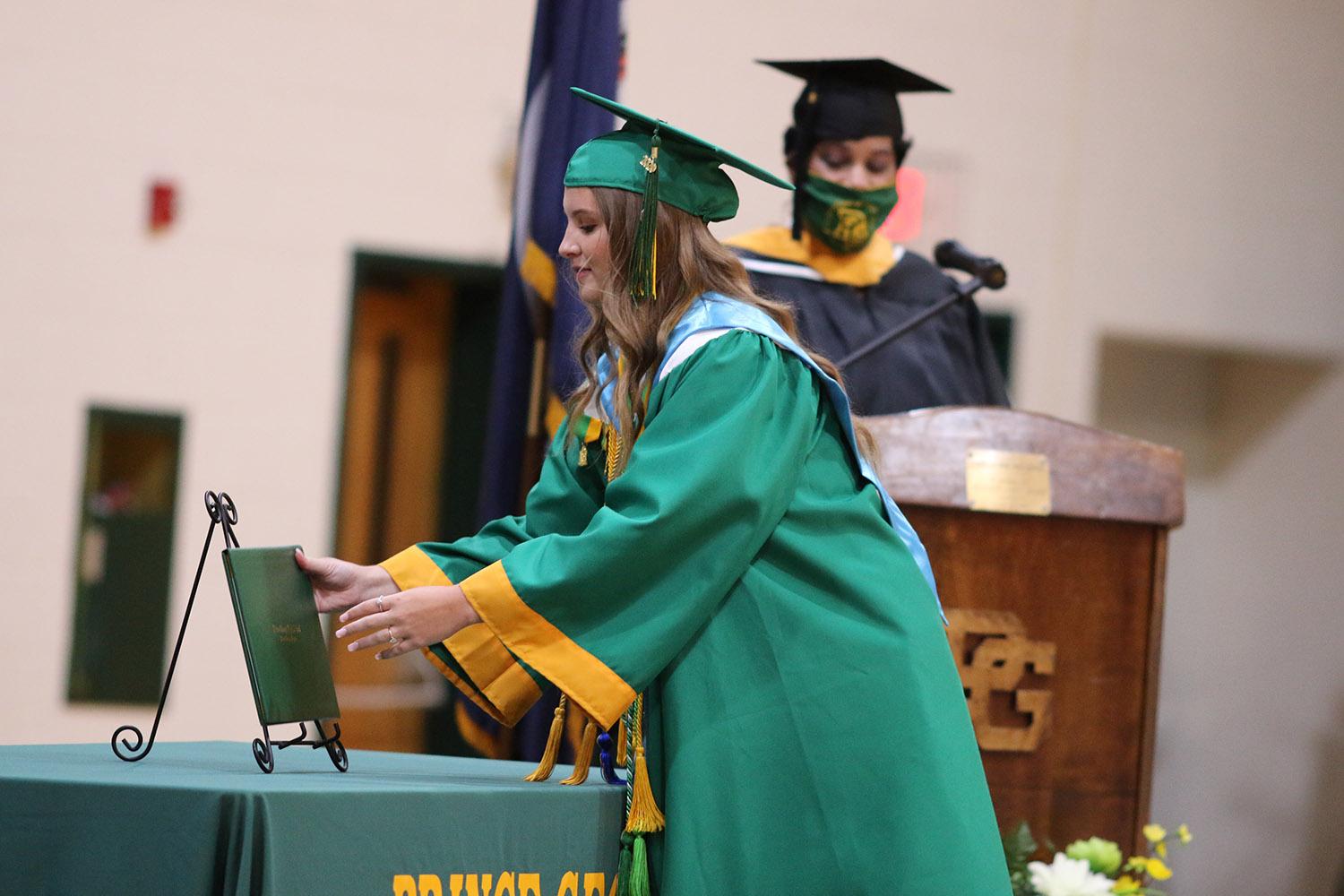 School Plans Outside Graduation
Adjustments Made To Graduation Ceremony To Accommodate For COVID-19 Rules, Regulations
As the final months of the school year are coming to a close, students steam their caps and gowns, take a deep breath, and prepare themselves for one of the most important and awaited events of their life: graduation. 
Fortunately, despite it being a non-conventional year, graduation will still go on, but there will be changes due to COVID-19. The main adjustment is that there will be three separate ceremonies.
"On June 17th, we will have two ceremonies," Assistant Principal Donna Branch-Harris said in a Zoom interview. "One will start at 9 A.M. and the second will start at 1 P.M. We will have one on June 18th at 9 A.M."
There is also a set number of people who can graduate each ceremony, factoring in the guests that are allowed and the amount of graduates.
"We are able to have roughly 130 graduates per ceremony," said Beth Andersen, graduation committee member and English department chair. "We'll start with the honors graduates, including valedictorian and salutatorian. After that, the ceremonies will be assigned alphabetically, so we have lists coming out this coming week, with assignments to those ceremonies. Mr. Nelson has departed, but the three assistant principals have taken on the graduation responsibilities."
"We have combined as a team, as a power team to take care of all that," Branch-Harris said. "We certainly do miss Mr. Nelson; he is going to be there with us in spirit. I know he will be checking on us. We have come together as a really strong team, we were already a strong team but we've come together to be even stronger so we will be taking on, all three of us, will be taking on that role. We'll be calling each day, as you know we have to confer the diplomas, we'll be taking part in that."
To make up for lost causes like prom, there will also be additional entertainment activities scheduled for seniors, including a spirit week and a drive-in.
"We will have a senior spirit week, the week of the 7th of June, so there will be some special dress up days that week," Andersen said. "On the 10th, there will be a senior sunset drive-in in the parking lot very similar to the drive-in movie that DECA hosted earlier in the year, but especially for seniors."
There will also be a senior parade to celebrate the Class of 2021.
"On the afternoon of June 12th, there's going to be a senior car parade," Andersen said. "This will give seniors the opportunity to gather in the school parking lot and have their cars decorated with streamers and balloons signs. And then we'll have a parade, down Laurel Spring, through the courthouse."
Finally, seniors will also get the opportunity to attend a senior trip this year.
"We are also able to have a senior trip this year to Busch Gardens on June 4th, and tickets are available from Mrs. McSherry, one of the senior sponsors," Andersen said. "For one day, tickets will be sold for 35 dollars."
However, not all things will change as there will be some sense of normalcy for the seniors.
"I think I'm excited that we are going to be out on the football field and the traditions that it brings," Assistant Principal Christina Pope said. "We are returning to a lot of our traditions that we had prior to COVID-19."
There will be the traditional baccalaureate service for graduation, except it will be virtual.
"There is a baccalaureate service, which is a religious service that honors our graduates, and that's a tradition that we've always had," Andersen said. "That is going to be virtual this year again, instead of in person, but that will be posted on June 12th at noon and we have some information coming out about that, to honor our graduates."
Excitement floods not only graduates, but educators and faculty as well.
"I cannot wait to see that wave of green, white and gold cap and gowns on that field and can not wait to call all of the students' names to receive their diplomas," Branch-Harris said. "And to see what they all are to do next; these graduates are the next trail blazers. I can't wait for graduation. I cannot wait to see everyone's smiling faces."
Graduation this year is focused on returning to normal in hopes to re-establish routine for the seniors that have overcome many challenges this school year.
"There's an excitement about trying to restore some sense of normalcy to this year and to this ceremony," Andersen said. "I'm excited to have students participate in some of those traditions that are so special. As everyone says, in every interview, or discussion of the Class of 2021, you guys have lost so much but this is a unique opportunity to be able to give you something special in the midst of such challenges and trying to properly mark the end of this school year."
Graduation overall is an amazing event in a student's life and it is an incredible opportunity to be able to attend in person.
"I think this is just a major life event for the class of 2021 and so I am so excited for this event for each of everyone and that students will be able to celebrate it with their family and friends," Pope said. "It's an amazing feeling as an educator when students walk across the stage whether they are an honors graduate or someone that is just barely squeaking by and making it across the stage, so it's an emotional day for many and that's what I'm most looking forward to. I just love seeing everyone celebrate this amazing life accomplishment."
About Author