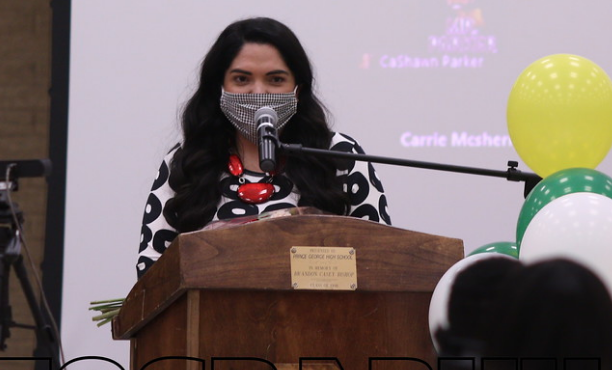 Paola Jones Recognized as 2021 Teacher of the Year for Prince George High School
By Emily Hannuksela
Surrounded by friends and family in the Commons, Spanish teacher Paola Jones received the 2021 Teacher of the Year Award on Tuesday, March 23, 2021 to commemorate her excellence as an instructor.
After being nominated and chosen by her colleagues, Jones received this award for going above and beyond in her teaching. Math teacher Jan Buetow, who won 2019 Teacher of the Year, spoke at the assembly to congratulate Jones for her accomplishment. Principal Mike Nelson gave Jones the award in his final week at the high school, adding significance to this event.
"This award was even more special because it was the last Teacher of the Year Award our beloved principal Mr. Nelson will give and that makes it even more special and rewarding," Jones said.
In a time where distance learning is difficult, teachers are required to work harder to connect with and teach their students. Jones has been going the extra mile to engage her students during the pandemic.
"This award overwhelms me because in a school filled with amazing teachers, to be given this honor is pretty incredible," Jones said. "Especially during this pandemic when we often wonder if we are making a difference, it validates the work we do and how much it matters."
What makes Jones such a remarkable teacher is her dedication to her students.
"It is very important that my students know how special they are to me," Jones said. "Even when the outside world seems like it is falling apart, I try to provide them with a safe and loving environment. The students inspire me to be the best version of myself that I can be. We have the most wonderful students at PGHS, and they deserve to receive the best education possible."
One of these students that Jones has had an impact on is junior Bennett Marsee, who knows Jones as 'Señora' after taking her Spanish class for two years.
"Señora brings me so much joy in seeing her in the hallways," Marsee said. "She is a role model for this school and I will always appreciate what I've learned in Spanish class, along with the memories I made."
Jones' hard work in her career as a teacher is paid off when she is able to see the successes of her past students.
"The most rewarding experience of being an educator is the impact that we have in [the students'] lives, to see them become young men and women that will go out into the world to be the best version of themselves and change the world," Jones said.
About Author