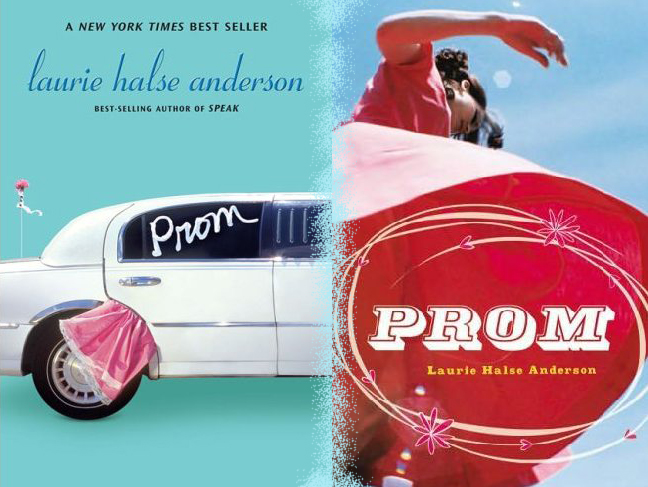 Like most seniors this time of year, I'm spending a lot of my time thinking about prom. Unlike me, Ashley Hannigan, protagonist of Laurie Halse Anderson's Prom, couldn't care less about the prom. Ash considers herself a normal kid,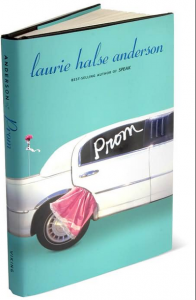 the kind that does okay but isn't going to do anything remarkable with her life even if she gets into college. Prom is not a magical dream to Ash like it is to her best friend and neighbor Natalia, who is heading the prom committee. Ashley is more focused on dealing with her off and on boyfriend TJ, who wants her to move in with him right after graduation, passing her classes so she can graduate in a month, surviving living with her wild and large family, and serving out her long list of detentions.
Eleven days before prom, disaster strikes. Miss Crane, the math teacher sponsoring prom, has embezzled away every cent of money in the prom fund. Ashley, like most of her classmates, assumes prom is off for sure. Natalia refuses to concede defeat, and drags Ash into helping (though she still refuses to even consider going to the dance). In less than two weeks, Ash sees her perspective on prom and her life shift as she and the prom committee face the monumental task of creating an amazing senior prom in their gym with zero funds.
Prom is incredibly funny, especially now that I can appreciate first-hand the hectic few weeks leading up to prom. Ashley's voice is frank and honest, which is refreshing, and her sarcasm and smart-aleck comments made me laugh. The novel is structured a bit unusually, with chapters ranging from a few words to a few pages, but it adds to Ashley's voice. Laurie Halse Anderson's work is usually more serious, but she handles humor excellently and creates a cast of memorable characters and a plot that delivers both laughter and a sense of triumph.