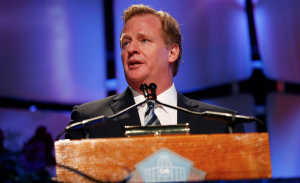 Over the last couple of weeks, domestic violence has been a big topic in the National Football League, mainly due to the resurgence of the Ray Rice domestic violence case. The Ray Rice incident is back in the limelight because the video of him striking his then fiancée was released by TMZ on September 8.
Ray Rice was suspended two games, without pay, by the NFL before the video was released, but there have been many sources that have told Outside the Lines, a television program on ESPN that looks "outside the lines" to examine critical issues in sports on and off the field of play, that both the NFL and the Baltimore Ravens had access to and saw the video that TMZ released to the public on the eighth.
The reason that information would be important is because many people believe that if the Ravens and/or the NFL saw this video before they had punished Rice, they should have given him a more severe punishment. Since the video has been released and there has been an exceptional amount of criticism towards the NFL, the NFL has indefinitely suspended Rice. The NFL Players Association is appealing the indefinite suspension "based on supporting facts that reveal a lack of fair and impartial process, including the role of the office of the Commissioner of the NFL." They have also requested to have a neutral arbitrator to hear the case.
Another domestic violence incident that has resurfaced is the Greg Hardy case. In July, Hardy was arrested and subsequently found guilty for assaulting and threatening his ex-girlfriend in May. Neither the Carolina Panthers nor the NFL suspended Hardy from playing. There were rumors going around in August that Hardy would be cut from the Panthers roster, but he was not. Nothing else was done until this past Sunday, the fourteenth, when the Panthers deactivated him from their active roster, meaning that he could not play for the game on Sunday. They did it because people were calling for Hardy to be suspended by the NFL, like they did with Rice.
The third case that newly arose this weekend was the Adrian Peterson domestic violence situation. On last Friday, the twelfth, Peterson was informed that he was indicted by a grand jury in Montgomery County, Texas, for "injury to a child," after he supposedly whipped his kid with a switch—or a small tree branch—in Texas. Peterson never hid from what happened, saying that he used his judgment as a parent to discipline his son for what he had done.
Not everyone thinks what Peterson did was wrong, since it was his child and many of them believe in beating or punishing their children after they do something wrong. But because of him being indicted by a grand jury, the Vikings deactivated him, just like the Panthers did with Hardy, from the roster for Sunday's game.