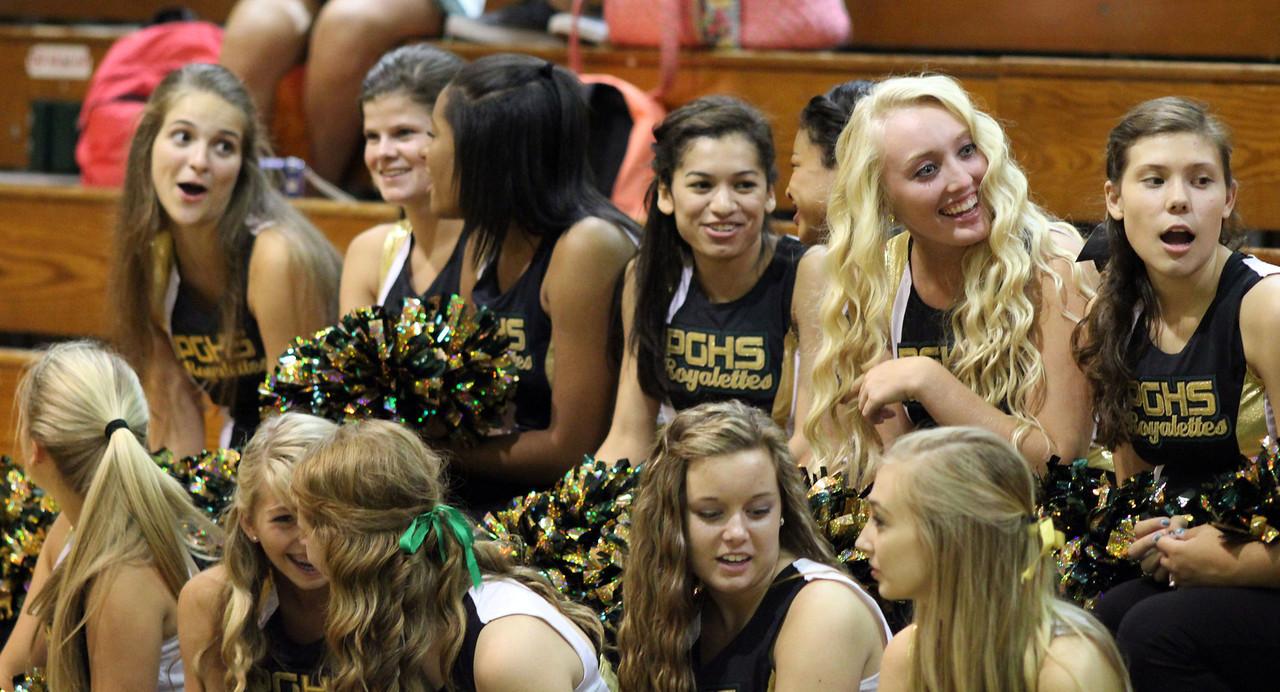 When the music starts to play at pep rallies, the students and teachers look for the athletic and precise movements of the Prince George Dance Team.  The dancers continue to bring entertainment and spirit to the pep rallies while having their annual dance competition on their minds.
November brings the switch from fall sports to winter sports, but not for everyone.  The Prince George Royalettes have been practicing and conditioning since the end of August, and all their efforts will be worth it when they have the crowd cheering at the dance competition.
The Prince George Royalettes are heading to Manchester High School on November 9th to compete in the statewide dance competition.  The team is hoping to increase their placement and receive recognition.
"I feel prepared and ready to compete," Sophomore Savannah Watkins said. "Even though it is my first year, I feel confident in my team and in myself."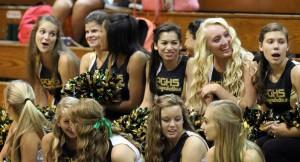 Although many of the dancers have a strong attitude going into the competition, they still see other teams as a threat.  Most of these teams have placed strong and show up to win.
"I think that the Appomattox Regional Governor's School dance team will be the most difficult to compete against because they are very talented dancers and they have put up a good fight in the last few years," Watkins said.
Although the dance team has only brought on one new dancer, there have been big changes in the routines.  A new regulation is in play that states that all dances must be under two minutes.
"We have had big changes with the routines due to time constraints," Sponsor Stephanie Poe said. "Most of our routines were anywhere from two to two and a half minutes long.  Although thirty or fifteen seconds doesn't seem like much, it adds up when performing."
"There is always a stress factor from competing," Senior Madison Kirkland said, "Especially when the time is pressing down on us."
Although the dancers are stressed from the thought of being judged and criticized, the Royalettes look forward to some of the better aspects of competing.
"I like being able to spend quality time with the team while watching the other teams perform," Kirkland said.
The Prince George Royalettes have won the Spirit Award two years running and placed third in the kick line category in the last two years.  They are proud of their achievement but recognize the room for improvement.
"We try to put in more kicks and harder kicks with more complicated moves," Poe said. "We have to reach a certain number of kicks with accurate precision.  We need lots of people to come out to get a higher spirit placement, and it also comes down to how many shout-outs the audience buys for us."
Even though the routines that the dancers perform are not as long as a football game or a basketball game, they still have to condition.  The Royalettes started the season with a two-week camp incorporating running and four-hour dance practices.
"I practice in school and out of school," Junior Virginia Kendall said. "You can't only practice in school and make it."
Athletes of all kinds push themselves hard and spend countless hours practicing.  These dancers approach their dancing the same as any other athlete.
"I have set a standard at 150% and I won't accept anything less," Kendall said.
The dancers  have at three different types of performances: football games, pep rallies, and competition.  Each performance differs from the others, but the competition is the least related.
"We know the people at the pep rallies and football games, so we are more comfortable.  If we mess up there, it doesn't really matter," Kirkland said.  "At the competitions we are being judged and we don't know who will be judging."
The judges are experienced dancers and competitors who are trained to look past appearances to technique and complexity of routines.
"Anybody can just go out there and shake stuff," Poe said, "but the real dancers use technique and precision to excite crowds."