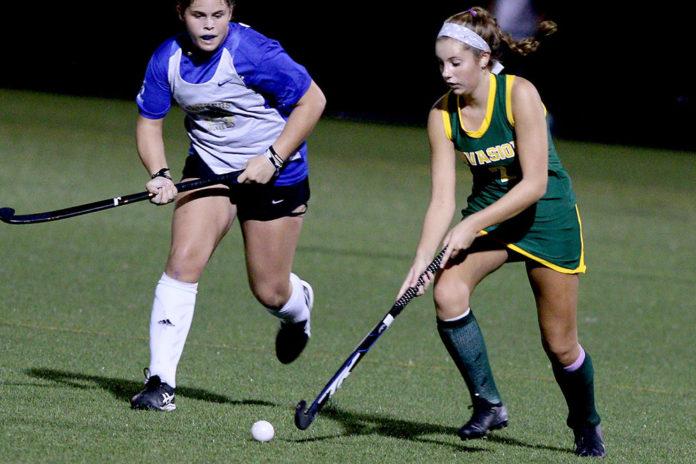 With the sounds of shouts and calls being heard from the field, the field hockey team practices for upcoming games with new regulations and guidelines.
After their fall school season was postponed, the team had to come up with a new plan. Sophomore Ella Warren has been playing field hockey for eight years now and expresses the challenges they have faced due to this irregularity.
"I think we will learn that you can't always rely on scheduled practices and games to be able to go to," Warren said. "As a player, if games and practices are cancelled and we are unable to participate in those things as a team, you have to take the responsibility and practice on your own at home and stay in shape."
The pandemic has caused more changes to be made to the already modified practices.
"We can't pick up cones or any equipment that everyone uses anymore, so it slows down practice time and clean up time," said junior Natalie Vick, a field hockey player of four years.
Vick conveys a concern for future seasons, and how they may be affected due to the pandemic.
"Some girls may be too afraid to return, or they don't have the transportation for it because of their parents' jobs changing, or their team may not have enough people because too many quit," Vick said.
Vick discusses the troubles and uncertainty that Covid-19 has given the team.
"Playing games and practicing have been more difficult for me because everyone has to be wary of each other," Vick said. "Since the coronavirus is asymptomatic, none of us know if we could be carrying the virus or not."
Vick expresses how playing field hockey has become more difficult due to Covid-19.
"The most difficult thing about playing hockey in the pandemic is that it's hard to social distance while playing games," Vick said. "While we are outside, it is hard to be in control of how far away we are from each other because you have to pressure the ball."
Warren also comments on the difficulties and challenges that Covid-19 has given the team.
"You never know if this could be your last practice or game and it sucks not knowing if in the future we'll be able to play or not," Warren said.
Warren discusses the changes players have made to their practices.
"As a player some precautions I've been taking are not sharing equipment and making sure I'm not drinking after anyone or sharing water bottles with my teammates," Warren said. "I've also been not attending practice if I'm not feeling good, washing my hands, and using hand sanitizer before and after practice and games."
Varsity field hockey coach Julia Ellison expresses how Covid-19 has impacted the field hockey team and how it could affect their future seasons.
"With restrictions put into place and a delayed season, our time together as a team has been limited," Ellison said. "Even though this time has been difficult, I think we will have a different outlook going into our next few seasons, we will appreciate our teammates and the team so much more."
Even though the impact of Covid-19 has been difficult for the team, Ellison leaves with a message about the satisfaction she has felt from her team in these hard times.
"It's exciting to see the team come together and for all of the pieces to fall into place," Ellison said. "A lot of hard work and dedication has gone into making that happen. I'm proud of what the team has accomplished over the past few years. They continue to push themselves to be the best. I know that they will only continue to grow and improve."