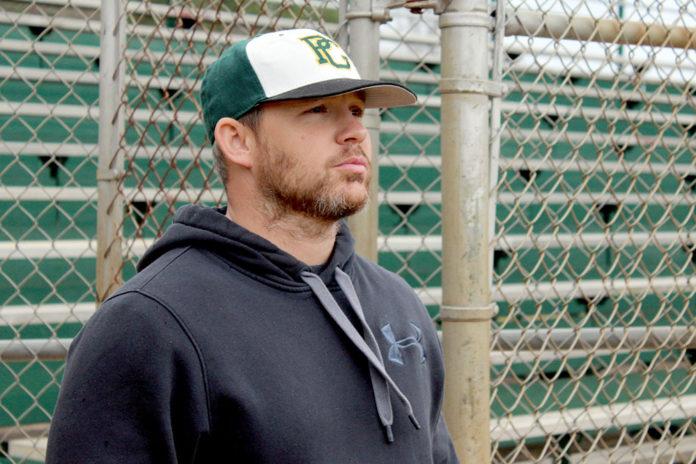 As senior Quincy Sippio fills his position as centerfield at practice, he gets ready to work on his routes for the team, but this year a new coach is hitting the fly balls to him.
This year coach Jarrett Vaughan, a Prince George graduate and former varsity baseball player, gets the opportunity to be involved with the baseball team once again.
"I played varsity baseball for 3 years in PG and graduated in '03," Vaughan said. "[I am] very passionate about PG sports, I love being around the student athletes and leading them."
Vaughan has been a football coach for three years but this is his first year being a baseball coach. As he fills the position he understands the importance of connecting with the boys.
"Being that I'm still fairly young it's pretty easy for me to connect," Vaughan said. "I take time to talk to each kid one on one every chance I get and will also take time to give them a call if I need to."
Sippio has noticed Vaughan's effort to reach out and connect with the team and feels as if the transition of coaches is so far smooth.
"He's getting to know us really well and everybody likes him," Sippio said.
Sippio also notes that Vaughan's is not as intense compared to previous seasons.
"This season so far has been a little bit more laid back but we still get focused and locked in when it's time to work," Sippio said.
Vaughan wants the boys to be able to work hard when it is time to get their head on the game but he also stresses that they need to loosen up and be who they are at the same time.
"I try to get them as much freedom as I can to still be themselves within reason," Vaughan said. "I don't want them to be robots, I want them to be able to show their personalities and be themselves."
Getting to know each boy individually has given more insight on how to be a better coach.
"[I've learned] how to deal with so many different personalities, what it takes to communicate and reach multiple kids at the same time, and mostly to have fun," Vaughan said.
Not only has Vaughan gotten to know his players individually but he has gotten to know them as a team and see how well they get along and know each other. He also sees how the seniors set great examples for the underclassmen.
"They are a super close group and have played together for years, so that makes it more fun for everyone," Vaughan said. "Our senior leadership is definitely our strength on and off the field, along with some really talented younger guys in the mix."
Behind every great team is a coach who is 100% behind them with full support. It is the job of the coach to teach the players how to be confident on and off the field.
"He is always pushing us to do things right and he pushes us to always be competitive and win," Sippio said.
Every new coach comes into the program with a goal in mind. Putting action to the thought is the part that coaches strive to achieve.
"Definitely to develop the younger kids, but we hope to play well see what kind of run we can make in the playoffs," Vaughan said.
Being confident in every situation is essential in order for a team to be successful.
"[Coaching the baseball team] feels awesome, like it's what I was meant to be doing," Vaughan said.