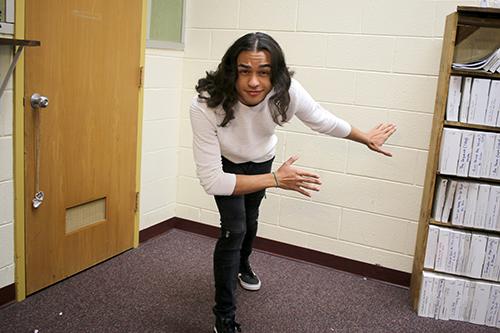 Stepping into the middle of the stage sophomore Helene White is ready to bring Kitty's character to life. Kitty's self proclaimed celebrity status
The PG Players have announced their spring musical this year is The Drowsy Chaperone by Bob Martin and Don McKellar. Rehearsals for the performance began Monday February 24, 2020. This play has a small, intimate cast who are bringing the story to the stage April 30 through May 2, 2020.
White has been in a few of the PG Players performances. She is enthusiastic about the opportunity to begin working on the musical because of the smaller cast size. Her excitement for this musical began at the first rehearsal, as she started to get to know the cast.
"I'm excited to get to be friends with the cast, because we have such a small cast, so we can easily make friends and everything," White said.
The Drowsy Chaperone is a musical comedy filled with exciting scenes in which wedding conflicts arise and are solved by the end of the performance.
"It is about a man, and he is working on a play. It is a musical comedy where a lot of stuff is happening, a wedding is going on. There are big musical numbers happening and we are all having fun. It is a bunch of characters that are having different problems throughout the play." sophomore Jaden Williams said.
Williams' character, Feldzieg, is comparable to the villain. Feldzieg works to ruin the plot in order to keep the lead actress in his show.
"He is a little like the bad guy, he has a Jersey accent, he doesn't want the marriage to happen at all because he wants his leading lady back," Williams said, "he doesn't want the wedding to happen and all of these characters are getting married at the end of the play."
The cast of The Drowsy Chaperone will continue to rehearse five days a week in order to produce their spring musical. As they get to know their characters better they start to bring the show to life.