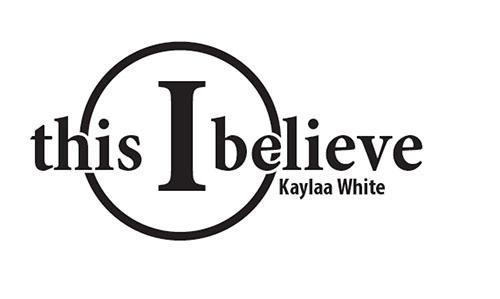 By Kaylaa White
Society tells little black girls that "lighter is better" and "whiter is better" a concept that history has reinforced starting with a single brown paper bag, popularly known as "colorism." Growing up, despite what my parents told me, listening to the culture I was exposed to outside my household, I thought I was ugly. I wanted my skin to be lighter, my eyes were "too boring," and I wished my hair would magically uncoil its kinks.
Of course, it wasn't possible to make these physical changes at 9-10 years old, but materially I changed everything. I forced myself into a Dominican-blown out hair, Sperry's wearing, pop listening stereotype. Rap and R&B, the music of my people was now "too ghetto" and not acceptable for my ears, despite my familiarity with artists like the Fugees, New Edition, and Biz Markie.

Along with maturity comes a plague aimed to wipe out the stable emotions of any middle school girl, boys. "My body was changing" and as cliche as that sounds, it was, and the attention I got made me uncomfortable. I can still recall being in 80-degree weather with a jacket on, but my T-Shirt wasn't loose anymore, and to me, that was an embarrassment.

The concept of being overly self-conscious followed me throughout my life. Afterward, I became "woke" and "more in touch with my roots" through the arts of Lauryn Hull and Issa Rae, became politically involved with Black Lives Matter and Women's Rights, "Was I beautiful?" was a question that remained in my head.
I didn't realize until recently that I wasn't really "ugly" I was just feeding into what society thought was "beautiful". Was I physically ugly? I don't know, but as a kid, I didn't do anything to morally condemn myself to such a derogatory term. I was beautiful because I was growing and evolving into the person I am today, not because of outer appearances that would change a billion times before I died.

I was forced to deal with cultural and gender "growing pains" and was able to find beauty in the person I became. Beauty isn't always on display with shiny blonde hair and mesmerizing blue eyes, it's a perception that everyone creates due to things they idolize. Still to this day, I don't know if I'm physically "ugly." Some might think I am, some might not, but it's not something I dwell on anymore.

To me, beauty is something you find deep inside you waiting to be unwrapped, like a present on Christmas day. If you can positively grow and change with life experiences, to me, you are beautiful.