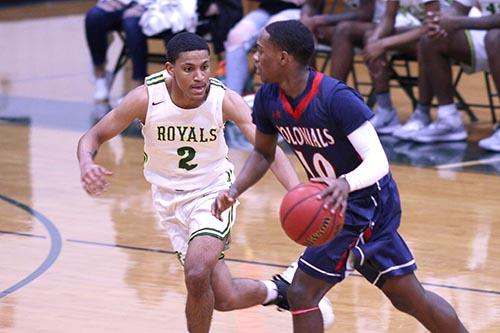 On Tuesday, January 7, the varsity boys basketball team took on Colonial Heights on their home court. The Royals beat the visiting Colonials 63-58 in what was a close match throughout.
Seniors Johnny Soto and Tavian Morris were huge contributors to the win. Morris scored a team high 16 points and Soto added 11. The leading scorer for Colonial Heights was Shannon Henry with 27 points.
Monday night, Tavian Morris led the Royals to a victory over Atlee. After a tough fight, the team was able to get an overtime win (68-66) with the winning basket being scored with just seconds left on the clock.
Photos by Shelby Hayes. For more photos visit: https://trnwired.smugmug.com/Sports/Winter-Sports-2020/Boys-Basketball-vs-Colonial-Heights-2020/
The next game will be away against the Thomas Dale Knights (8-2) on Friday.