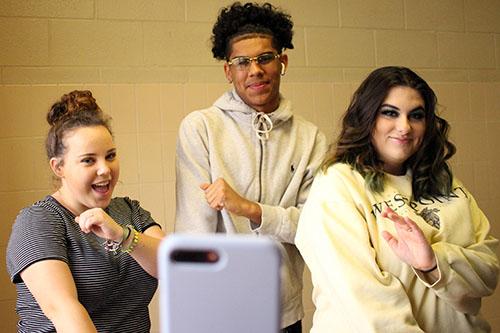 Bright filters, dancing teens, cosplaying addicts and lively music blow up on TikTok, a recent app that captivated this generation of leaders.
Teens across the nation are using their creative skills to make short looped videos called TikToks.
TikToks are vertical, looping videos that can be between 15 to 60 seconds in duration. These videos can come in many forms that become popular because of creativity and good execution. Many of these videos become memes and something to lighten up a bad day.

While millions around the world use this popular app, a few students at Prince George High School have sparked attention in the online world with their short videos.
"I started TikTok this past summer. My friends and I started making them for fun and then when they kinda got bored of it, I just stuck with it and now im doing it, a lot," senior Molly Ashcraft said.
Ashcraft was impressed by the lack of drama contained within the app and soon began making TikToks for fun. Once she realized people enjoyed watching her content she decided to stick with it.
"Social media has been going downhill lately and there's a lot of drama with it so I feel like TikTok is that one thing that no one can really fight on it and if they do it's not really important with what they say, so I kinda just started making them and people started watching them so now I continue to make them," Ashcraft said.
Other users such as junior Mackenzie Beaudet started making TikToks were inspired to make content to positively impact others.
"[I started making TikToks] to try to encourage other people to be themselves and accept who they are and that's a way to let stress go," Beaudet said.
Once users have decided to start making TikToks they undergo their creative process to make content that viewers will find entertaining.
"The process of creating a TikTok for me is really thinking of an idea or a story and finding the right sound for it and putting in the right captions to make it follow and go together," Ashcraft said.
Creators can add filters, sounds, and captions to their content.
"I don't really use a TikTok filter but for sound, it is just anything music for me," junior Patrick Lockett said.
Users are able to film themselves and add sound to go with their video such as songs that play on the radio or a duplicate of a well known track that users want to put their own spin on.
Although creativity is strongly encouraged throughout the app, it can be difficult when trying to please the majority.
"[ The hardest part is] Probably doing one that doesn't insult anybody and not getting shamed or judged for your opinion, but everyone has the right to an opinion so if I feel like it needs to be said I should be able to say it," Ashcraft said.
"Do what you think is funny and you never know, I never knew I was gonna blow up like that so if I can do it anyone can do it," Lockett said.