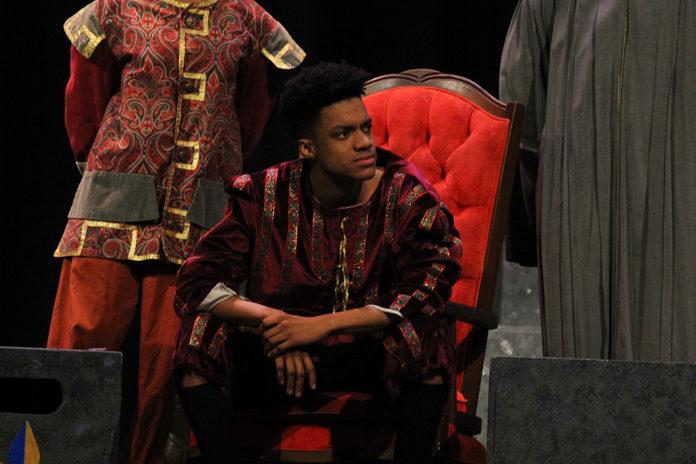 A young aspiring actor steps on stage as the yellow and white lights warm his skin. As he begins to speak his lines, he reminisces about his love for theatre and what kind of career he dreams to make of it. The crowd roars with cheers as he takes his final bow.
The Virginia Theatre Association conventions are taking place through October 30th to November 3rd in Norfolk, Virginia. Students from all around the commonwealth of Virginia involved in theatre are invited to attend. Students who aspire to dance, act, sing, or even work behind the scenes are eligible to audition.
"It's a competition based convention but it always has acting classes, college auditions, different types of activities and such," said senior Thaddeus Howerton, "If you're a senior, you'll have the opportunity to audition in front of Judges to get into college or receive scholarships."
Howerton shares how the audition process for VTA works.
"To audition for VTA, Mr. Phillips made us write a monologue in five minutes pretty much about anything we wanted," said Howerton.
Being involved with theatre, Howerton aspires to make a career out of acting.
"I wanted to get into theater because my dream is to become a successful actor. I wanted to get some form of experience so I can take it to the next level. Theater also allowed me an outlet to express myself and to be comfortable with any ideas I had," said Howerton."Nothing really inspired me exactly, I just always enjoyed putting on a show for people and being entertaining. It was always fun for me to see people's reactions."
Theatre also acts as a safe space for Howerton.
"It gave me something to be busy during the time of my life where things were rough," said
Howerton. "Being in theatre welcomed me into a family. It's one of the greatest experiences of my life honestly. Some of the characters I portrayed allowed me to get some of my mental stress out and used to enhance my character and performance."
VTA is available to anyone associated with theatre.
"Anyone can join, people should do VTA because it gives them a whole new experience. You meet people from different walks of life and skills you couldn't imagine," said Howerton. "Also you never know if you may have a chance to talk to your dream college representative about their drama program."
Theatre teacher, Daryl Phillips, is in charge of choosing the students who can go to the convention.
"This year it was easy because it was students who are considering majoring in theatre in college and so since we were doing the auditions it was just them," said Phillips. "But the competition auditions are open to the entire school so anyone can audition when we do participate in the competition."
Phillips explains how students can benefit from going to the VTA conventions.
"There are a ton of workshops run by theatre professionals that the students can partake of when they go there," said Phillips. "Every year seniors that are going to major in colleges and universities in theatre, get to audition for over 30 college and university programs. After the audition they have what they call, callbacks and the students get to meet with representatives from the schools that are interested in them."
The Virginia Theatre Association gives students in theatre a place to bond with other students with the same goals as them.
"It also gives the students a chance to meet and make friends with like minded people from other schools across the state," said Phillips. "Many of our students connect with people that they become friends with at the conference and it's just a fun time."