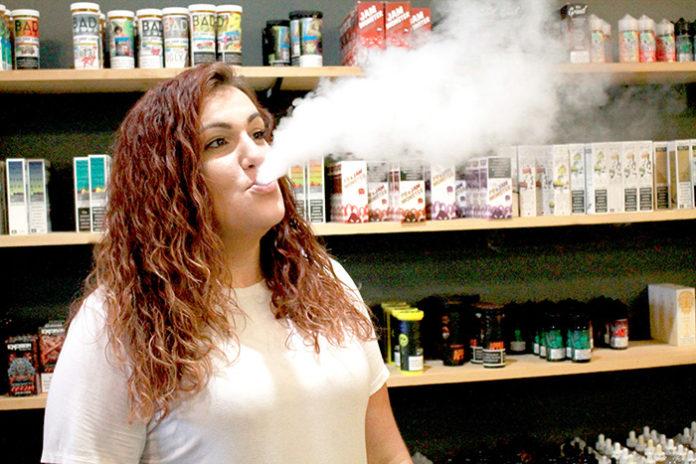 Prince George schools are smoke-free campuses, even for those who are legally allowed to have possession of vape products.
On July 1, 2019 laws on vaping in Virginia underwent a change that has affected the lives of many high school students. Previously vaping laws allowed anyone 18 and older to purchase vapes, now anyone who would like to purchase a vape must be a minimum of 21 years old, with the exception of active duty military.
"[The school board] just changed a whole bunch of policies we got over the summer, and with that [vaping] is banned. Because it was not addressed in the Codes of the County," Administrative Aid Kendell Warren said.
With staff now being the only people who are legally old enough to have vapes, there are hopes to completely eradicate vaping within the schools. Assistant Principal Christina Pope is one of the admins working toward this goal.
"If a staff member sees a student with a vape then they turn it in, or if they believe someone is vaping they let [administration] know… we may search a student, based on suspicion by a teacher. Then we take the vape away and contact the parents," Pope said. "I hope [the law changing] would make it more difficult for the students to be able to obtain [vapes]…"
Students like Senior Drake Hannuksela agree that vapes should be kept out of school and the hands of students.
"I think it is a good thing that they are trying to keep them out of teenagers hands," Hannuksela said. "I used to think it wasn't that big of a deal, but now I am seeing all these people that are dying from it, so I am really against it now."
Vaping has recently gained popularity among adolescents as the smaller sized vapes have been developed. Janty Vapors employee, Brylee McFadden, explained that the size of small vapes are more attractive to younger customers.
"I can say that when the Juul came out it was a smaller device, it was easier for younger kids to get their hands on, and kids that had never even smoked a cigarette before, that is when everyone really noticed a change of the younger kids [vaping]," McFadden said.
Janty Vapors opened after McFadden's family lost her grandmother to diseases that originated from her smoking habit. Vape products are often used to help people quit smoking traditional cigarettes. Some, like McFadden, see vaping as a healthier alternative to cigarettes, because there is potential for less risk of diseases that can be lethal.
"A lot of people come to us from their doctor, 'Hey you need to quit smoking you have cancer, or this or that' they [may have been] smoking it has been a nervous habit, or it has been something they have made a habit in their lives, for some people, 40 years, 50 years, it blows your mind, so it is a very emotional buy, so we just want everyone to feel comfortable," McFadden said. "I have been off of cigarettes since March 31, 2018, so a year and a half now, and I feel great… I definitely feel as though [vaping is a healthier alternative]."
While some people believe that vape products could be a better alternative to cigarettes others still think there are unsolved issues that can come with vaping.
"I know that the tobacco companies were trying to make a thing that was less carcinogenic than regular tobacco and cigarettes and that blew up in their face, obviously, with all of the news that is out about all of these people in the hospitals," Warren said. "If [a person has to be] 21 to buy alcohol, it should probably be 21 for vaping."