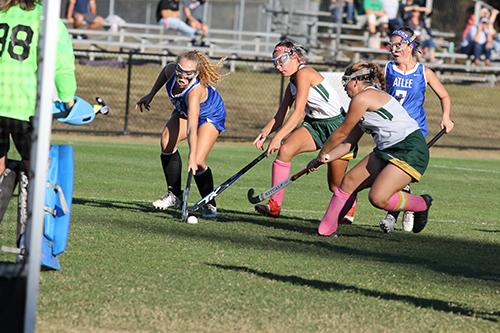 Coming off of a win against Thomas Dale last Wednesday, the Lady Royals looked to keep the momentum going. They knew that high energy and perseverance would be key factors in the turnout of the game.

With Atlee getting first possession of the ball, the Lady Royals quickly answered with a turnover that led to the first corner of the game. Following the corner, the ball was played in the middle of the field until midway through the half. The ball was driven down towards Atlee's goal, leading to the second corner for the Royals, and the first score of the game.

Freshman Ella Warren scored the first goal, with sophomore Hayley Collins assisting. With five minutes remaining in the first half, Atlee managed to get a stroke. Sophomore goalie Elizabeth Christian had a miraculous save, blocking Atlee's stroke and keeping the score 1-0 in the Royals favor going into halftime.

In the second half, the Lady Royals started with the ball and quickly drove down the field with Hayley Collins scoring within the first three minutes.

Coming off the goal, Atlee inched their way down towards the goal and got two consecutive corners in the middle of the half. They scored off of the second corner, bringing the score to 2-1. The Lady Royals were able to hold off Atlee for the time remaining in the half, securing the win and improving their record to 9-2.

Prince George heads to Matoaca on Wednesday for a rematch from two weeks ago.