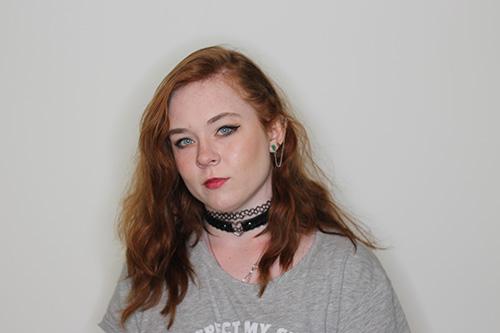 Glittering eyeshadows, rosy blush, and bright bold lipsticks are scattered in Skye Watkins black makeup bag labeled 'Meow' that sits on her nightstand.

Watkins considers herself an expert when it comes to the art of makeup and expression, she considers herself this because of practice that helped to build her strength over time. This is one of her favorite hobbies along with playing guitar, singing and annoying her younger brother.
"Makeup is a good way to express yourself, because what you do on the outside can reflect what you do on the inside, if you do daring makeup it shows your a daring person and if you do soft makeup it shows your a very relaxed person," Watkins said.

Even though Watkins is considered an expert when it comes to makeup, she is clueless in other interests such as sports. Watkins interests are more towards artsy concepts that she feels comfortable with.

"I grew up in a family that was super into sports, but I can't find any interest in it, my family would always sit around and scream at the TV, while I sat in my room," Watkins said.

All things considered, Watkins was influenced by her discoveries as a child. She never had any experience with makeup until she discovered makeup herself. Watkins has has some simple advice for beginners.

"Keep working and do not give up it takes a lot of practice to get to a good level," Watkins said.