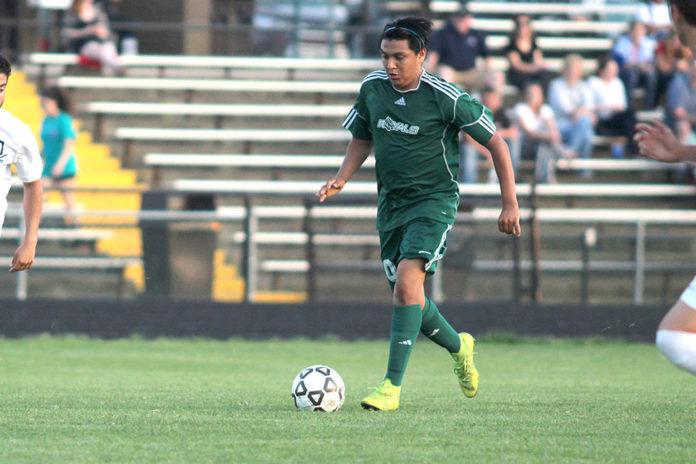 For the boys soccer team, they had a big obstacle to tackle in coming into the season. Losing nine seniors from last season and having a mostly underclassmen team this year, head coach David Moody Jr. really had to rethink his strategies.
For the boys soccer team who lost many seniors coming into the season, they had a bigger obstacle to overcome. Usually coming into the season, Moody has had a picture of who would start, but this year, it was a question of who would step up and fill the shoes the best.
"With losing nine talented seniors, we had to really place a focus on team building," head coach David Moody Jr. said. "We had a board game night one afternoon that included charades, cards, and other fun games. The guys brought over their video games and we spent the evening playing games, eating, and just hanging out, getting to know each other."
With the nine seniors leaving, they had something that is hard to find on most teams in the area. All nine knew each other really well and the style of play each individual brought to the pitch.
"The majority of the senior class from last year were really close," Moody said. "They knew each other on and off the field, they had classes together. They played soccer together starting at a younger age, so they meshed really well."
As younger players tried to fill the shoes that were left by previous players, they have fought through adversity and never looked back.
"They're the ones that have come up big in big plays and games," Moody said. "Jadyen Midar and Alex Simmons are two of the smaller guys on the team, but they are relentless in pursuing the ball. We could be down 0-5 with two minutes left in the game, and they're still out on the field playing as if its 0-0 in the first five minutes of the game. But this doesn't downplay everyone else on the team. The fact is, everyone on that team deserves the proper recognition."
The Royals are determined to succeed with what they have. With key midfielder senior Fabian Moran back from last year's starting lineup, he has had to help mentor some of the younger players into the varsity thinking.
"We just have to work with what we got," Moran said. "They all played together on JV so it is a big step for them in adjusting to the varsity style of play."
Having nine seniors depart along with injuries to starters is something most teams never have to face. With these setbacks, the team is still on the verge of making the playoffs.
"We are right on the verge of making Regionals," Moody said. "I think it's a really tight race for the 7th and 8th seeds. As long as we can worry about what we can control, focus and prepare one game at a time, and not get caught up on where we stand on the rankings, we should be fine."