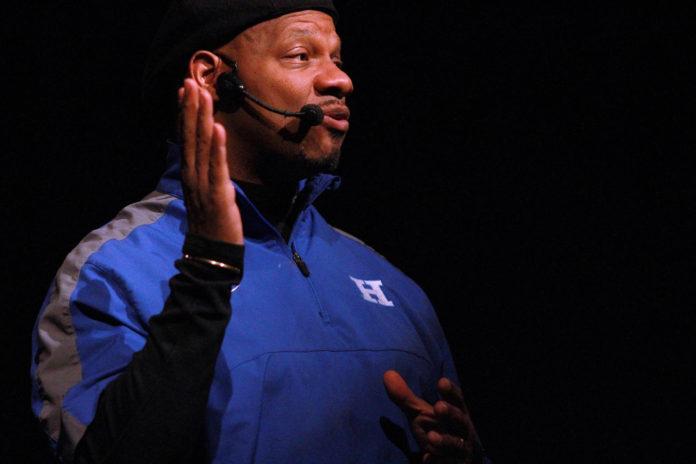 The Fellowship of Christian Athletes club held their Keeping It 100 Assembly on February 28th during 2nd block. The assembly was hosted by Steve Fitzhugh, a former NFL player who played for the Denver Broncos.
Fitzhugh led the assembly off with calling a few students onto the stage and playing a game. Fitzhugh called out statements that the students had to agree or disagree on.
This game helped provide the students watching and participating with the whole message of the assembly: peer pressure.
Fitzhugh emphasized the importance of thinking and making decisions for oneself. He told the story of how his entire immediate family were victims of drug, alcohol, and nicotine abuse.
His older brother, like him was a football champ, rising up to the top only to be brought back down by "friends" that tempted him with bad choices.
"You can all be eagles, but if you hang out with the chickens you'll never soar to the top," Fitzhugh said.
Fitzhugh explained that all the students he's talked to have the ability to do great things, but if they surround themselves with people who prevent them from flying.
The FCA president junior Deryl Gensler closed Fitzhugh's speech with a prayer and thanked everyone for attending.
"Mr. Steve did not just tell us to make good choices, but showed us the ruined lives of his loved ones," Gensler said.
Fitzhugh's speech not only touched Gensler, but many of the hearts of the other students that attended. Unlike Gensler, senior Kae'ra Lucas is not a part of the FCA but still attended the assembly.
"He [Fitzhugh] reminded me to do good, always stay focused on the real test at hand, life, and to motivate young people," Lucas said.