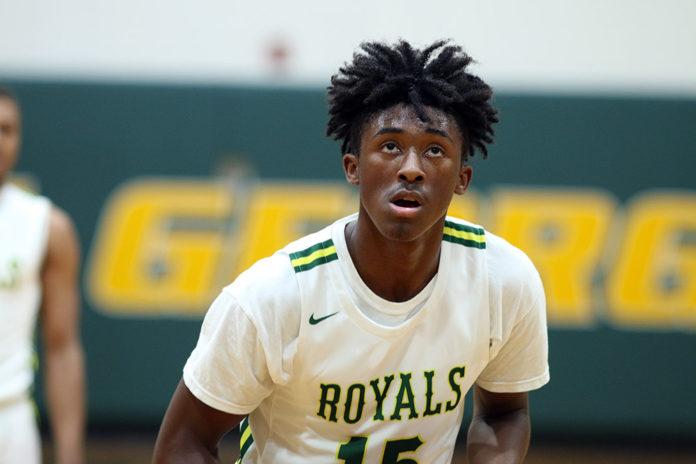 On Friday, Dec. 29, the boys basketball team defeated the Hopewell Blue Devils in overtime 55-53 in the semifinal game of the Tri-City Holiday Tournament after defeating Carmel H.S. in the quarterfinals 57- 38.
However, the Royals faced Petersburg in the final game of the tournament on Sat., Dec. 30, and lost 49-44 after leading at the start of the 4th quarter.
The Royals defense held strong against the Hopewell Blue Devils, with junior Johnny Soto and junior Tavian Morris assigned the task of guarding key players. Head Coach Travis Carr assigned Morris to Hopewell's star point guard Elvin Edmonds for most of the game. Morris held Edmonds to 24 points.
The game was intense with many lead changes and at halftime, Hopewell lead 24-21. However, the Royals kept the momentum up and kept the score close until the fourth quarter.
Trailing by one in the fourth quarter with the seconds ticking, the Royals stole the inbound pass and Morris was fouled in the process. Morris stepped to the line shooting one and one. He made his first free throw but missed the second, which tied the game 44-44 leading to overtime.
Similar to the first four quarters, overtime was very competitive and could have went either way. However, the Royals pushed through and succeeded in defeating Hopewell with a final score of 55-53 after overtime.
"Coach Carr wanted us to play basketball. We all got picked for a reason, and together we make a team. We were simply the better team that night," junior Johnny Soto said. "We knew what we had to do and we executed."
Their performance in this game and the tournament as a whole, led to Morris and Lambert being picked for the All Tournament team.
"It feels great to be picked for the All Tournament team, because I've been working all summer for this and all my hard work is slowly paying off," Lambert said.