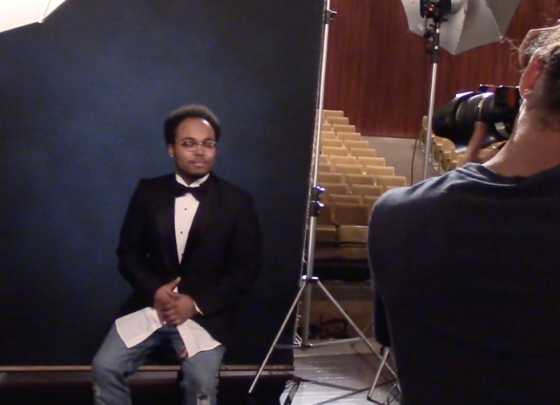 The process begins with candid color sizing and fitting the students tuxedos and drapes. They are then assisted through a series of poses and angles.
Photographer Eric Reaves for Candid Color gives us an insight on what high school picture day is like in the eyes of Candid Color.
"To prepare for school picture days we set up these stages here – a stage every single day. We each have our own sets of lights, and stands, and backgrounds, "Reaves said. "And every single day as you can see, there's three here now… there could be up to six, and each day we come in and we set these up an hour before everybody's in here. So we are the first people here usually each day. We can go to to two schools a day or two different shoots a day."
"On a regular basis usually 5 schools a week every day. Every day could be a different school. Maybe we have a back-to-back day where we can be here in Prince George for two days in a row, which we would leave all the stands and everything set up and then the next day we come in a half hour early instead," Reaves said.
In senior portraits it is a tradition for males to dress up in tuxedos females to wear black drapes. Seniors had the option to choose their favorite photo.
Buy your yearbook to see class of 2019 senior pictures.