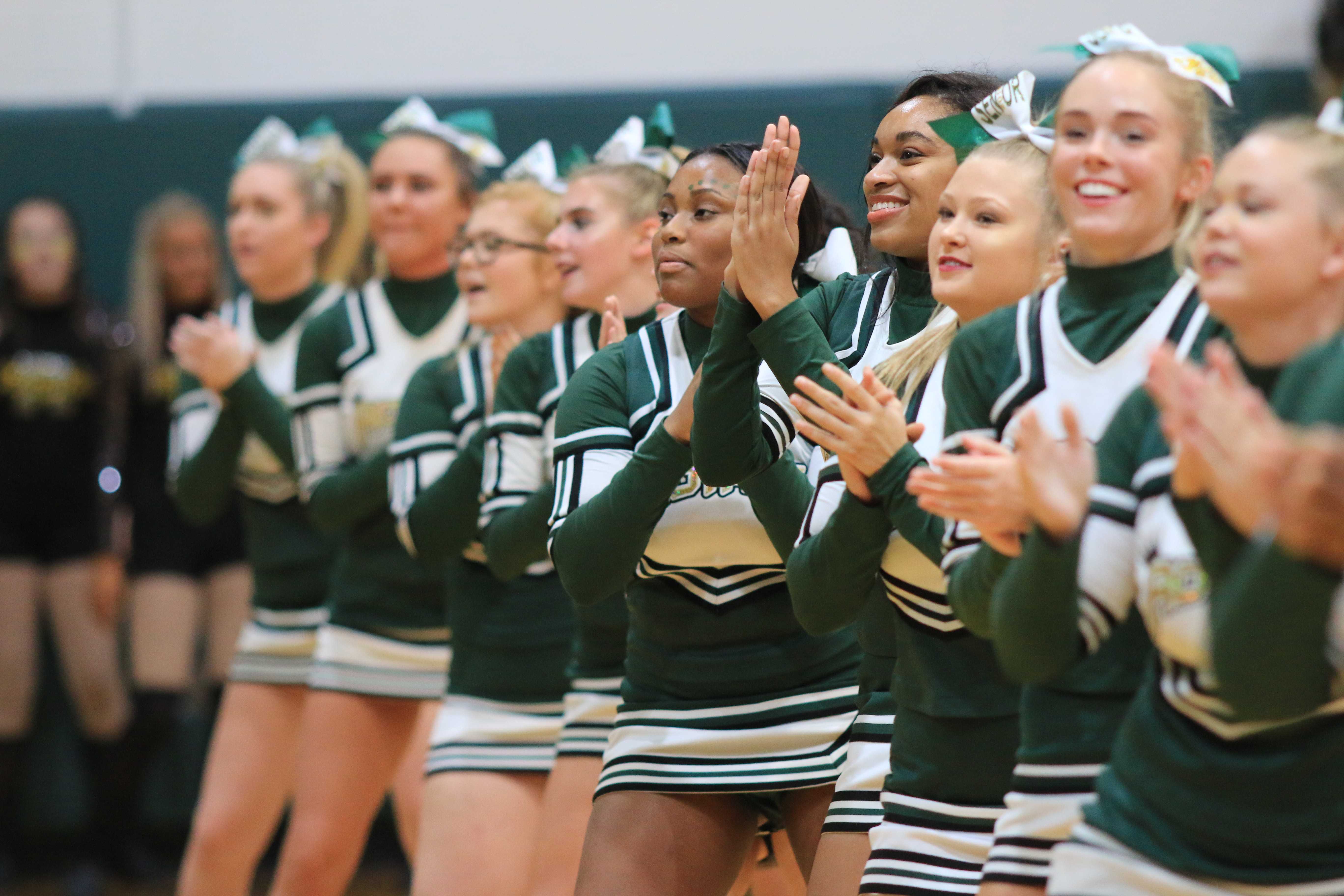 Homecoming week leads the news this week as students dress up with themes of each day. The end of the week will see a pep rally and the football game against Petersburg.
Monday is dress up as a musician or era of music. Tuesday is tie-dye day and Wednesday is twin day. Thursday is match your wall day — the Commons walls will be decorated according to the theme of Game Night. Seniors have board games, juniors have game consoles/games (like PlayStation, Wii, etc), and sophomores have arcade video games (like Pac Man, Space Invaders, etc). And finally Friday is green and gold day.
The buildOn interest meeting will take place on Thursday, October 4 between 2:30 and 3:15 PM. The meeting will take place in the library. Please have rides ready, immediately after the meeting.
The P.G. Players announce auditions for The Lark by Jean Anouilh. This is the story of the trial of the Joan of Arc. Auditions will be held on Monday, 10/8, at 2:30 in the Auditorium. Students will be asked to read from the script. Students interested in technical crew work, should come fill out a form for Mrs. Houlihan. All students are welcome. Please see Mr. Phillips in the Auditorium with any questions.
Throughout the month of October, SADD and Cultural Awareness Club members will be collecting donations for Trick or Treat for UNICEF. Trick or Treat for UNICEF is an annual event here at PGHS, which supports global citizenship and healthy peer-to-peer relationships. Thank you to the members that have already turned in one or two boxes. All boxes are due Nov. 1st.
Be sure to enter the essay contest 2019 Strong African American Men and Women in the History of Virginia. SADD and Cultural Awareness club members that would like enter for a chance to win an Apple Mac Book Air and $500 cash, please stop by B14 for more details.
The JV Girls volleyball team placed second out of 12 teams in the Capital City tournament over the weekend.
The signup for the annual blood drive will take place this week during lunch. The host organization is JROTC. All students under the age of 18 require parental consent. Please sign up and help save lives.
The Fellowship of Christian Athletes is encouraging students who want to participate, to bring their Bibles to school on Thursday, October 4th in celebration of National Bring Your Bible to School Day.
The George is now open starting at 7:35 AM. Stop by our Table during Lunch for all you spiritwear needs! Place you orders now before the homecoming/Pep rally RUSH! For questions see Mrs. Beales in room B1.
Students may pick up and return applications to Mrs. SB Jones in room B-12 by Tuesday Oct 9th.
The following college representatives will be at Prince George High School. Any seniors interested in meeting with any of these representatives should sign up in the counseling office:
Thursday, October 4th ODU at 9am
Friday, October 5th Radford at 8:30am
Friday, October 5th Hampden-Sydney at 10am
There will be an informational presentation from a West Point representative here at Prince George High School on Monday, Oct. 8 from 9:30-10:30. Any student interested in attending this informational presentation should sign up in the counseling office.
And those are your news briefs for the week of October 1st – 5th.