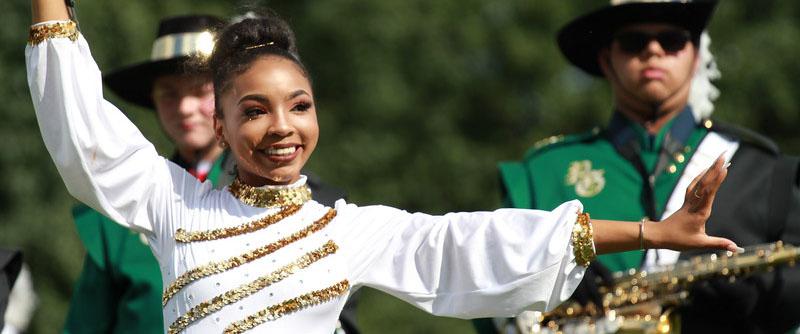 The majorettes and color guard are ready to twirl and spin their way to the top this football season.
Senior Mia Stephenson has been awarded with the role as the new captain of color guard. This being Stephenson's 6th year on the guard she looks forward to being a role model for the future captains on the team.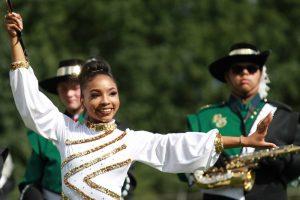 "I hope to set a good example for next years captain, as well as bring home a few trophies," Stephenson said. "But mostly to create memories with the guard that I can remember throughout my life after high school."
As color guard captain, Stephenson has to take on a variety of responsibilities.
"I lead the girls in warm ups, I select the flags we use for the show, I tape and pack flags, I help the guard with their sets, run them through the routine, and make sure the guard room is in order after every game and competition," Stephenson said.
Stephenson shares that when a former color guard captain visited and spoke with her 6th grade band class that is when she knew that this was her future.
"The current captain at the time came into my class and did a few tosses and I just knew that's what I wanted to do," Stephenson said.
The color guard competes in various competitions with the marching band.   
"We go to various high schools to compete with other bands," Stephenson said. "But most importantly we participate in VBODA's which is the state assessment of the band over all."
Since Stephenson has been participating in competitions throughout her high school career she shares that she does not feel the pressure when it comes time to compete.
"I don't really get nervous anymore when I practice, I practice as if I am in a competition so when the time comes it's just like another day of practice," Stephenson said.
Aside from the color Guard there are the Majorettes and together the two teams make up the Auxiliary.
Senior Jordan Forehand has been on the majorettes for 3 years and this year she is the captain.
"As captain I lead the other three majorettes, encourage them to do not only well on the team but in school as well," Forehand said. "I make sure everything is clean and that our twirls are in time, and I make sure everything is basically together and we're in unison."
Forehand shares that she has a whole generation of majorettes in her family that have pushed her and inspired her to do what she loves.
"I come from a family of majorettes," Forehand said. "It's a generation thing my grandma twirled, my mother twirled, my great grandma twirled and all of my aunts were twirlers, I love it." 
Forehand plans to attend North Carolina A&T State University this upcoming year to follow up with her majorette career.
"I love twirling, twirling is my life I want to twirl in school," Forehand said. "Whenever the batons in your hand I just get a rush every time I'm on the field, putting on the sequined uniform, throwing my baton in the air and catching it, it gives me a rush."
This being Forehand's last year in high school she shares some of her best advice to the underclassmen on the team and any new students who want to join.
"Go hard, never stop trying. You're going to drop the baton. No matter how good you are you're going to drop the baton," Forehand said. "But as long as you pick it up and you act like nothing happened it's fine."