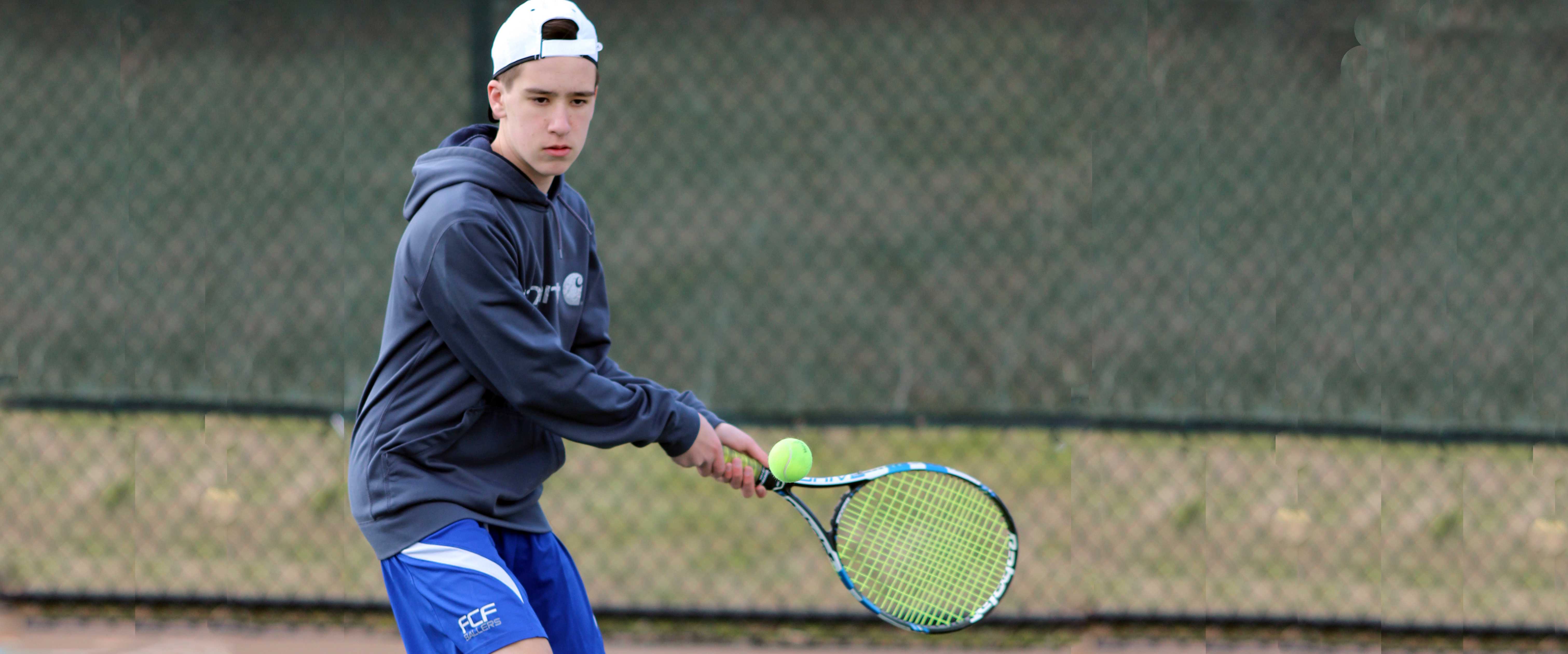 This season's varsity tennis team has three sophomores who have been working hard and are previewed as part of the top six. Sophomores Carter Marks, Mark Hutson, and Max Bennett are some of the young leaders on the team.
Marks has been on varsity for three years. He likes the game because it can be controlled at your pace and not have to worry about how your other team- mates are doing.
"The way you play determines how your other teammates play and each in- dividual has to do their job," Marks said.
Marks describes tennis as an indi- vidual game and one's only job is to fo- cus on getting the job done.
"Being one of the top sophomores gives me room to grow and for my se- nior year to make a great shot to play- offs," Marks said.
Marks expects the new players to work hard and give it their all during every practice and match.
Hutson has been on varsity for two years. Hutson also enjoys the game be- cause he can focus on himself and his matches and not have to rely on the other players.
"Since I started playing tennis, I have been less stressed and enjoying myself more," Hutson said.
Hutson likes how tennis is not a sit down sport and you are constantly moving throughout every hit. Hutson knows it is humbling being named in the top six, but he knows he can't lose focus and still needs to work hard to get better and better. His friends help him get better and to improve his skills.
"Playing against Miles who is a close friend to me always inspires me because at this moment in time he is where I want to be skill-wise for this season and even above," Hutson said.
Hutson puts in time on and off the court by practicing everyday after school and behind his house. Bennett is returning to the team for the third, and has been playing tennis for several years before. Bennett likes the game because he gets to play with his friends and it's not an overly competitive sport.
"Knowing I'm one of the best players as a sophomore makes me want to get even better and thrive in the future," Bennett said.
Last year Bennett only lost one match during the regular season, but took a disappointing loss in playoffs last season.
Bennett remains humble about his accomplishments and he hopes his en- tire team has the intensity to get better. He practices a lot outside the season, in the offseason and offseason tournaments.
Bennett told the new players that it takes a while to become good, so never get down on yourself and always stay positive. One of Bennett's inspiration would definitely be Marks.
"We push each other to become bet- ter each day and we also play doubles together and help each other along the way," Hutson said.
Photo Caption: Sophomore Max Bennett hits a backhand while practicing before their first match of the season. Bennett is one of the three sophomores ranked in top six. Photo by Taylar Bauschatz.