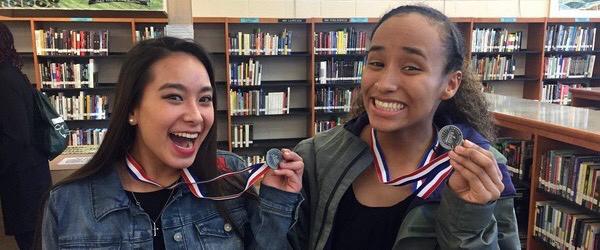 On February 24, 2018 the forensics club participated in the super regional competition. Seniors Laura Thompson and Taylor Stevens competed in the category of serious duo with an excerpt from The Fault in Our Stars by John Green.
Forensics is a way for students to become more comfortable with public speaking by acting out scenes from various different sources including books and movies.
"I decided to join this club in order to improve my public speaking abilities, being that I will be giving a speech at graduation, and to make more senior memories that will last a lifetime," Thompson said.
During the performance, the actors are not allowed to make eye contact with each other but instead spoke directly to the audience.
"It's so hard not looking at Laura when she performs. Like when she totally kills her part, I just want to tell her she killed it. But I can't so I try to keep in character," Stevens said.
The duo was mentored by their sponsor, English 12 teacher Beth Andersen.
"It was fantastic working with Laura and Taylor. I was really proud of them for stepping out of their comfort zones and trying something that is not easy for either of them. Public speaking is a challenge for most people. It goes back and forth with death because it is people's number one fear at any given time more people are afraid of public speaking then they are dying. They were very willing to face that fear and put themselves out there with something most people don't really give a try. They represented PGHS with excellence and I was really proud of them," Andersen said.
The team practiced with their free time in class, lunch, and after school. Thompson and Stevens would also thoroughly run through the routine twice before competition day.
"We both could tell that we have drastically improved since the first time we read through our piece. However, we did not place high enough to qualify for states, but the other groups were really good and we have nothing but great things to say about them. Overall, I thoroughly enjoyed being able to hang out and constantly laugh with Taylor and being able to connect with Mrs. Andersen and Señora Jones on a more personal level," Thompson said.
Stevens and Thompson  learned a variety of lessons from participating in forensics club over the last couple of months.
"I learned that public speaking is not easy and you have to practice everything. I learned that you have to over exaggerate a lot of things to make it more effective. Finally, I learned that acting is very hard and I respect all actors because it's very hard not to break character," Stevens said.
" I have learned from forensics is that trying new things and experiencing something different is fun. I can simply say that this club has improved my public speaking abilities, but it has also shown me that a bond between two friends can only increase while making new memories. Taylor is not only my friend, but also my forever duo partner," Thompson said.