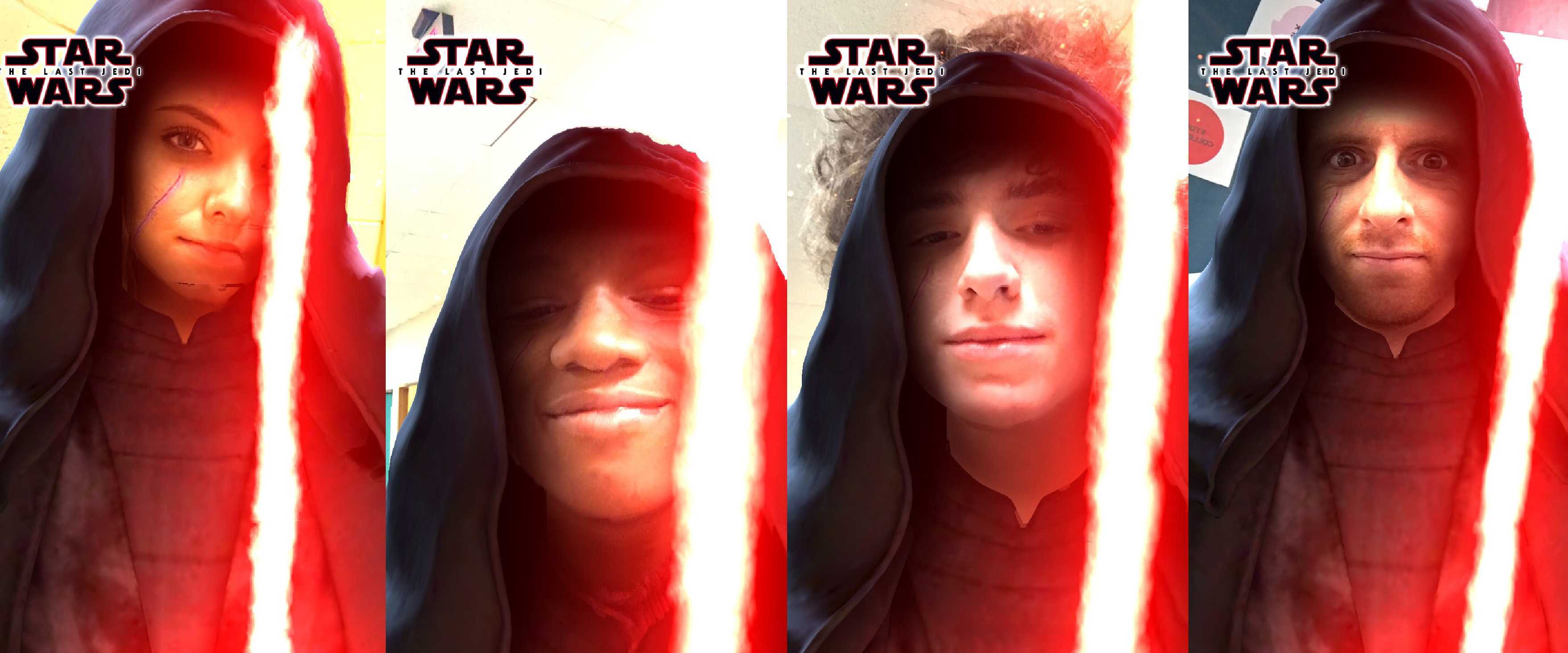 A long time ago, in a galaxy that seems not so far away, the first Star Wars movie came to theaters everywhere. It also became part of other medias, such as graphic novels, books, TV series, and video games, but the one thing that is held dearest to fans' hearts are the movies.

Now, excitement is brewing in the cooling December air as fans young and old get ready for the new Star Wars movie, The Last Jedi. Many have already bought tickets online the day they were available and the movie premieres December 15th. The atmosphere is electrifying as the hour comes closer to the movie's release.

"I've been waiting forever and it's finally coming out," junior Desire Devine said. "I think it's really interesting because it's got such good characters and just the whole story behind it. It's just so different from everything else anymore [in reference to the previous movies]".

Theaters everywhere are working diligently to prepare their showrooms for the masses of Star Wars fans that, with no doubt, will flood the theaters the day of the premiere. The movie is guaranteed to have a steady spot on top movie lists nationwide due to its prior film's immense popularity. The Regal Cinema already has the cutouts everywhere in the lobby, letting fans know they are just as excited as they are about the new movie.

"We are getting ready to start scheduling and will probably have a shirt and popcorn deal. I mean, we had a souvenir popcorn tin last year, so the shirt is more likely," senior Max Heyliger, an employee at the Regal Cinema, said. "I'm just expecting the worst and seeing towards death," he says jokingly. "I don't think you really understand how crowded it gets. Everyone is trying to ignore it, but low-key everyone is anxious."

This franchise has been popular from the start, affecting every person who took the movie to heart. Everyone has a different story about how the movies came to be a part of their lives from the first time they walked into a theater, to a personal connection with what the characters endure.

"It has helped me get along with certain people my own age because Star Wars has progressed throughout the decades. It helps me so I can talk to somebody else, especially making reference,"said junior Jamal Berry, a fan of the classics.

The plot line for this movie is one well known with a different story that still excites fans with unexpected twists and turns that leaves crowds hanging off the edge of their seats. The death of Han Solo felt as if the old world was starting to end, and a realization that all prior knowledge might fall obsolete, has left fans in wonderment as to what might their beloved Star Wars be known for next.

"I think that they needed something stable for traditional Star Wars fans to get back in and be invested in the story again, so they needed Force Awakens to kind of get all of those traditional Star Wars fans, who were really disappointed in episodes one, two, and three, back into the universe and caring again," said devoted Star Wars fan, librarian Levi Owens. "So they used something that is very familiar and exciting because, of course, we still get excited when we hear the opening credit music."

Most fans would agree, it would be interesting to see where the battle between light and dark go from here. Some would say that the new heroine, Rey, could pose some new type of mixture of good and bad. The matter is still debatable about how this movie could unfold, but one thing for sure is that it will no doubt leave you in suspense waiting for the next movie to, once again, make a blockbuster debut.