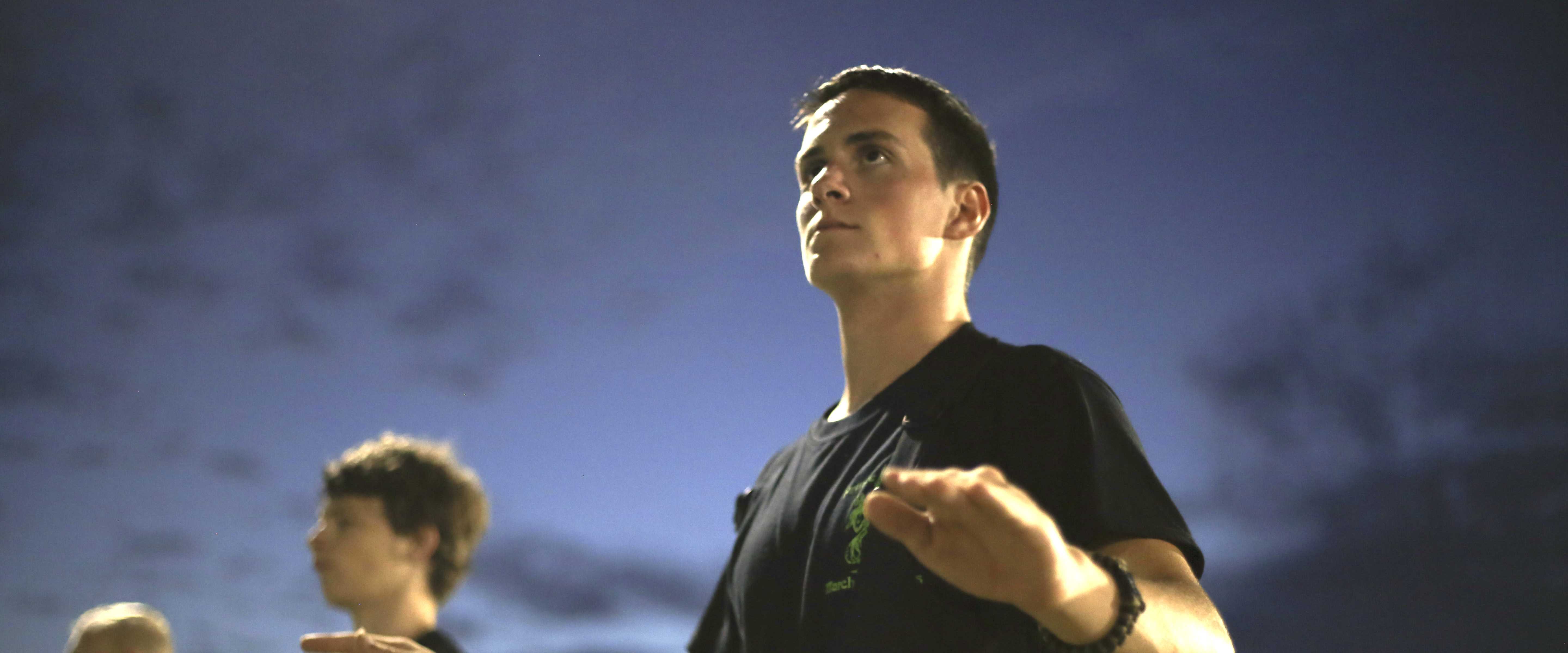 The clock ends for halftime as drum majors senior Ian Siemen and senior Ben Skelton lead the band to their positions. As they give the starting signal, the band begins to play while they stay in sync with each other.

To Siemen and Skelton these are smaller practices leading up to bigger competitions and assessments. They share the role of leading the whole band during exercises as well as the performances. This may seem easy to some, but it's not all fun and games for the directing duo.

"It's definitely a leadership position," Skelton said. "You're in charge of an entire band, this band, making sure they stay in time with each other, move with each other, and coordinate with each other, and that's what a drum major is."

The position of a drum major takes a lot of focus and dedication. The role comes with high expectations and responsibility. A few of these responsibilities include teaching the repertoire to other members, leading warm-ups, representing the band during special occasions/ceremonies, answering members' questions about the routine, and being an inspiration to the whole band.


Marching Royals from PGTV NEWS on Vimeo.
"The hardest part about being a drum major, and I don't mean this in an ugly way, is knowing people don't give it their all," Skelton said. "I think that's the hardest part, knowing you have a band that could break 90 but doesn't because they don't give their full effort."

The members who are elected for this position have shown they can handle the pressure. After the role is bestowed upon them the entire band looks to them for directions, and answers to questions about the show.

"They should be capable of conducting, rehearsals, and helping sections," band director Michael Warnock said.

Sections are groups of instruments that practice together during rehearsal. Both Siemen and Skelton share this role, going from group to group answering questions, clarifying details, and making sure every member stays on track and is focused.

"The easiest part for me is showing up for practice. Once you're in practice you just do what you've been taught, and if you have problems just fix them," Skelton said.
"The easiest part is showing up and the hardest part is actually putting in the work, but it's just if you have the will and the dedication to do it, it's easy," Siemen said.

The expectations are high for Skelton and Siemen as they lead the band through competitions. The hardest part about these competitions, as Shelton has said, is having someone there that knows music and knows what you did wrong.

Their next performance is on Oct. 28. This will be their state assessment, and the band will be performing Tribes Of A New World, a mix of different melodies representing the many cultures of the world.

"We listen to judges' tapes so we can get a higher score, so when we get to the state level we can come in with a one," Siemen said.

For those that are not aware of the judging scale, it goes from one the highest, to three the lowest and, as Siemen said, they always push to get the one.

Completing this assessment could mean high scores for the majors and the members, this could eventually lead them to the VA Honors Association, meaning they did extremely well on an SOL type assessment, which is very important to the band because it is like getting an 'A' on an important test.