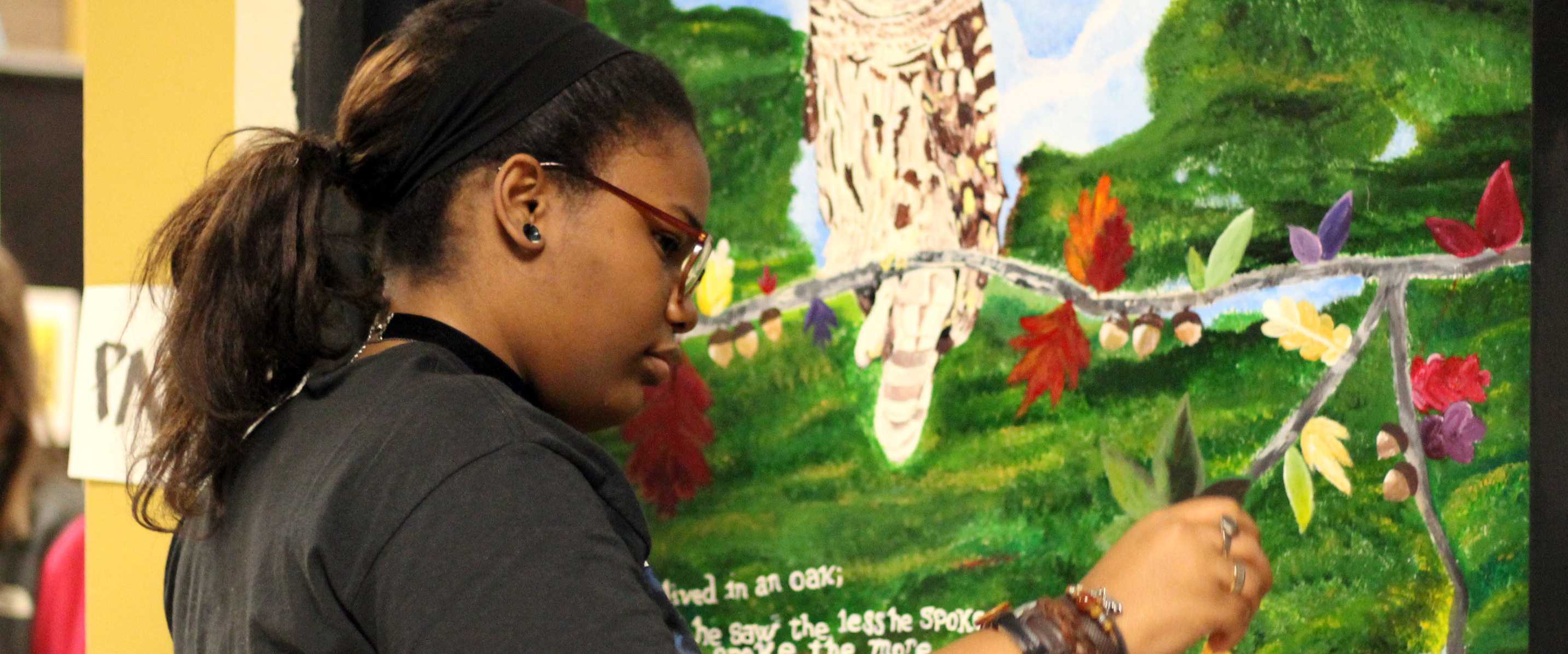 Being a senior in high school comes with many perks and advantages from being able to leave for lunch three minutes early to having the option of early dismissal every day. However, since the 1976-77 school year, there is one senior privilege that is reserved solely for the art students – painting and personalizing a window or ceiling tile.
Since the very same year that the high school opened, art class seniors have been given the opportunity to paint their own window or ceiling tile. Their assignment is to create something that speaks either to their experiences as students throughout their high school journey or something that has to do with their future.
Senior Erin Fogg is currently personalizing a window right outside of F-Wing.
"My window is kind of like a metaphor," Fogg said. "It is a painting of a spaceship going out into the galaxy. It depicts our Class of 2017 going out into the world, innovating, and making a creative difference."
Many of the painted windows and ceiling tiles remain in the art room or line the halls of F-Wing to be admired by students around the school. However, art seniors are also given the option to give their tile to a teacher of their choice to place in their classroom ceilings.
"My favorite teacher is Ms. Corrigan, and so I personalized my tile for her. She loves the beach so I based the color scheme around the beach sunset," senior Christian Martin said.
This year, sixteen seniors will be completing windows and ceiling tiles to be displayed throughout the school. According to art teacher Christy Eliades, these sixteen pieces will be added to the collection of over two hundred windows and ceiling tiles that have been painted over the past forty years.
"Seniors have been allowed to paint windows and tiles since 1977. It is an annual tradition and the seniors love doing it," Eliades said.
Many of the originals are still up in classrooms around the school. Though a few have been damaged due to water leaks and time erosion, the majority of the tiles are still in place. According to Eliades, former art students often come back to see the tiles they created many years ago.
"When people return to see theirs and it is missing due to acts of time, it is pretty sad. But, some get to see what they did a long time ago and I'm sure it brings back a lot of good memories," Eliades said.
For many of the art class seniors, art is a way of self-expression that has been a significant part of their lives for as long as they can remember. It is something that has carried them throughout their high school years, thus making the window and ceiling tile project a seemingly perfect way  to mark the end of their high school journeys. Each painted window and ceiling tile is an original mark on the school left by a talented art student.
"I started art when I was seven years old, so I have been doing it for about 11 years. I love how it allows you to express yourself in so many ways; art means a lot of different things to different people. It is a great way of expressing how you feel," senior Zahria Young said.
She personalized and painted a window in F-Wing.
Each student with each window and ceiling tile leaves a special, personal, and original mark on the school that will be viewed by the many generations of students to come. Each piece symbolizes not only a journey, but a milestone that was reached by a student.
The art seniors are currently working to complete their pieces. The Class of 2017 art students will put the total amount of painted windows and ceiling tiles well over the 200 mark as they continue the four-decade-old high school art tradition.