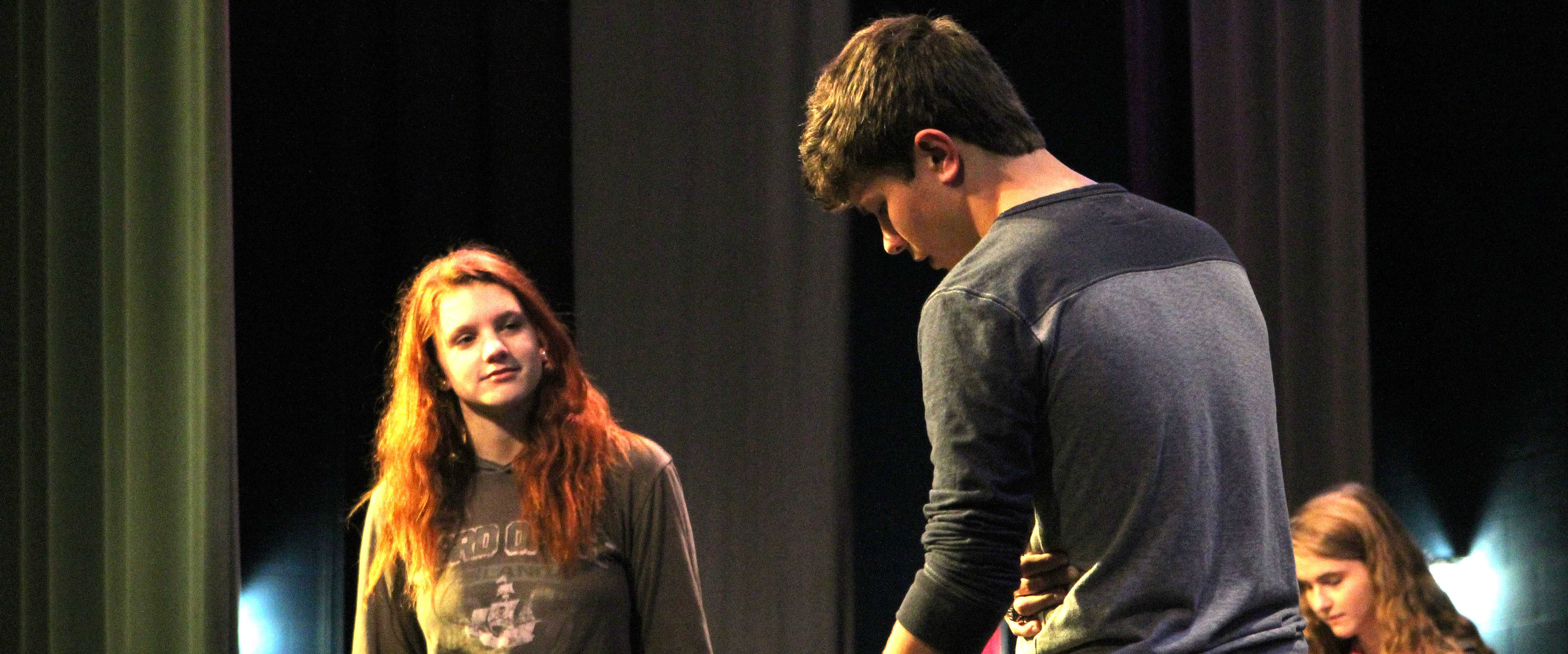 On one very special weekend this October, Prince George County's own PG Players, a competitive acting group consisting of Prince George High School students, attended the Virginia Theatre Association's 44th annual acting conference in Norfolk, Virginia. The conference lasted from Thursday, October 27th, to Sunday, October 30th.
"Sixty or seventy high schools from all over Virginia go there," said Darryl Phillips, the theatre teacher at PGHS. "It's not just a big competition, it's also classes and workshops and seniors who are going to major in theatre in college can audition for college programs. It's a really nice conference."
The PG Players have been attending for over fifteen years, since before Phillips began teaching at PGHS. This year, they performed Us and Them, a one-act play by David Campton. "It's sort of an allegory about two civilizations that come in and claim a territory," said Phillips. "They decide that the best way that they can cohabitate with each other is to build a wall. And so, with the whole thing that's been going on with Trump and Hillary, this concept of building the wall- it was an interesting hit for us to [perform] at this time of year. It doesn't make and judgments about Donald Trump, but it does evaluate what happens when you build walls between people."
While the competition is a big part of the conference, that's not all it's about. The students take classes and make friends, things that will stick with them forever. "It's more about the process of going, and the students have activities from 8 o' clock in the morning until 11 o'clock at night, the whole time we're there. And we're usually there for a couple of days at least. So it's more about the students having a chance to connect with other students that are like-minded and like-interested," said Phillips. "[They] get a sense of a feeling of what the next step might be outside of high school. It's more of a growing experience than it is …  an experience about the competition. The students that are there become friends. They root for each other and become friends, because everybody's in the same boat. It's the kind of thing where they would potentially meet people that they might be going to college with, or might meet out in the professional world of theatre if they continue on. So there are a lot of students that make good friendships over the course of the weekend."
The PG Players did not place this year, but they put up a great fight. Phillips was vey happy with the performance. "The students performed very well, and the audience received the performance very well. The students were happy with what they did. The judges gave them a number of good ratings, and commended them on their use of the space and also their ensemble creativity. … That sometimes happens, you know. There are, as I said, sixty schools competing, and there are only two finalists out of the sixty. So, you know, over 500 students are competing. … We usually do fairly well," Phillips said. "This was just a year where the judges were focused on other kinds of things. … I don't go into it with any kind of preconception of whether or not we're going to win everything."
The PG Players plan on attending the conference again in future years. "Yes! [We will attend] if everything goes well. It's a first-come-first-serve basis, so you kind of have to play the game of making sure that you get your request in early enough with them, because it fills up fast. We do our best," Phillips said.
"Later in the winter … we'll be competing in the VHSL Theatre Festival and we usually do fairly well in the competition. This year, we'll be writing an original play, and the auditions for that will be later in December after we get Macbeth out of the way. Macbeth is our next production," he said.  Make sure to stay tuned and keep an eye on the PG Players in the future. The team will surely be getting better, going to more conferences, and putting on more great performances.