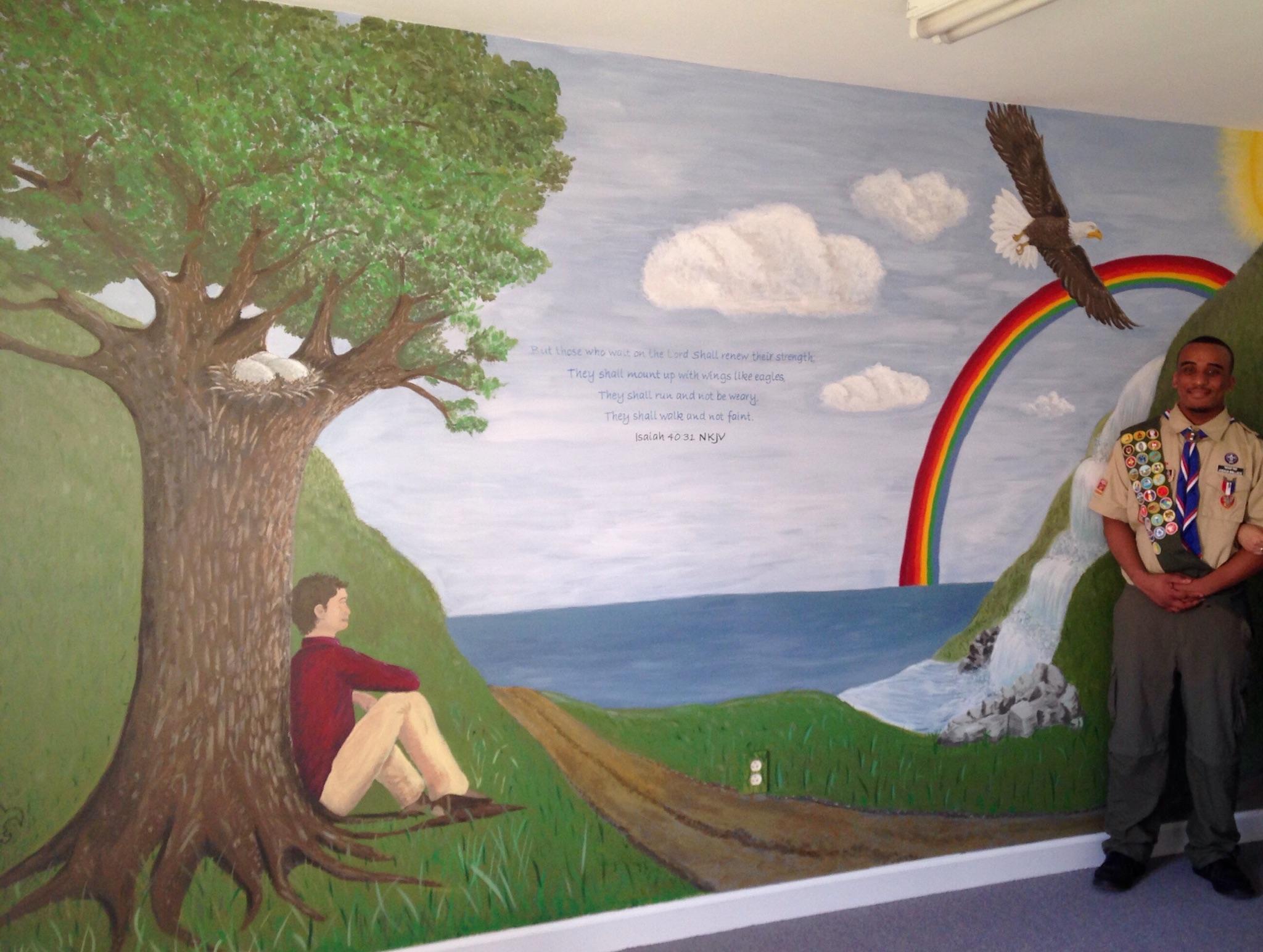 Through the hard work of taping, painting and drawing, senior Joshua Wallace created a breathtaking mural in the junior church room of Gregory Memorial Presbyterian church in Prince George.
Wallace was given the task as a life scout of Troop 900 in Prince George, to create a project that impacts the community to achieve the proud honor of an Eagle Scout. Wallace chose the idea of a mural for the chartering church of Gregory.
"(The purpose) was to express my artistic talent to Gregory Memorial," Wallace said.
Murals have been around since the middle ages and are recently becoming popular in cities, schools, and communities.  They are being created to express and interpret life through colors, symbols, drawings and words.
Inspiration for Wallace's mural came from his best friend since preschool, senior Kevin Foster.  Foster received his Eagle Scout in May of 2015, and was there step by step through the process of helping and mentoring Wallace through his project.
"I thoroughly enjoyed being there for Josh every step of the way of him achieving the highest award a scout can get," Foster said.
The mural consists of a waterfall background with a rainbow, a boy sitting at the edge of a tree base, and an eagle flying over.
"It was great that being friends with Josh gave me an opportunity to help him, as well as my dad being his Eagle Scout coach throughout this long journey," Foster said.
The mural took about 4 months to complete with lots of hard work. There were some problems with the creation, but Wallace persevered through them.
"Scaling the sketch I drew for the mural was a bit tough with an old fashioned projector," Wallace said. "The other problem was just getting the right color for a certain area of the mural."
On the day of Wallace's Eagle Scout court of honor, the crowd erupted into cheers and praise for the masterpiece.
The mural has been the talk of the town through members of Gregory and the youth that learn every Sunday in the room.
"The best part was when I was finished with the mural project, the accomplishment of finishing the mural and the whole room made me feel good," Wallace said.