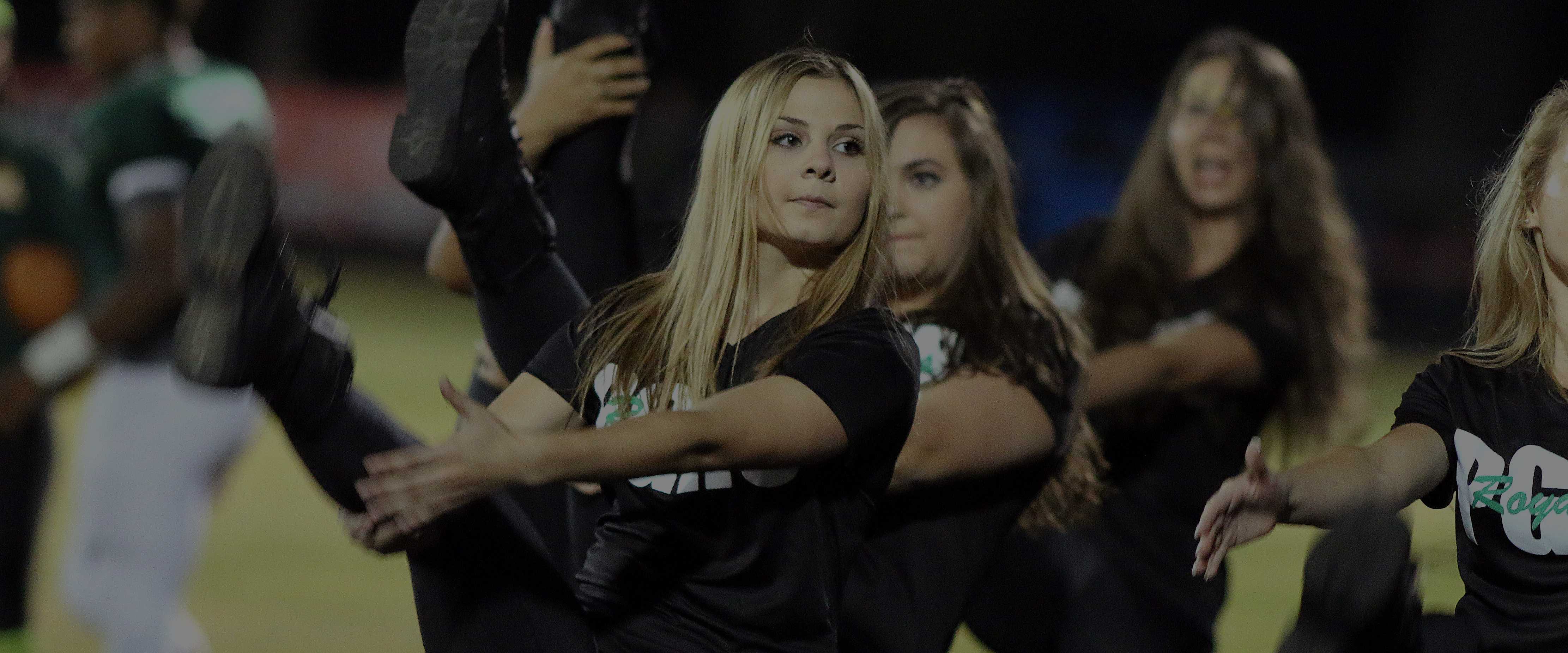 Spinning around and around to the count of eight is an usual practice for any dancer. The Royalettes Dance team practices year round for half-time shows and competitions. Many dancers not only dance for our school team, but also local studios.
This can mean many practices a week, for many members and countless dances to remember. Although both are dancing activities, the atmosphere between the two are very different. The Royalettes perform at games frequently, while studio dancers practice weekly for a recital weekend once a year.
Senior Alexis Heath likes performing at games, but at the studio she enjoys her fellow dancers and instructor.
"My jazz dance, last year at recital [is my favorite dance performed] because it was really fun. We got to dance with the younger kids that are on the competition team and they are very good," Heath said.
On average, studios practice weekly from September to May. When spring rolls around, it is time for their grand finale to show off months of work, the recital.
Studio dancers register for a certain amount of classes in summer and attend them, each class they learn skills for the first few months, but come January they learn the recital dance. Each class they learn more for the number and perfect it for their final dance in May.
Dance team tryouts are at the end of each school year. The team has a four day dance camp in the summer to learn most of their dances. The team performs at pep rallies, pre games, and games. They also have the chance to compete in competitions with other public schools.
Senior Layne Singletary enjoys the social aspect of the school's dance team. "Spending time together as a team before football and basketball games is one of my favorite things we do, because we stay after school, practice, eat dinner together, and get ready for the games together," Singletary said. "We make the best memories."
Dance team is an outlet for most girls to show their love for dance and their school spirit with one activity. The dedication to practice year round gets tough but their love for dance shines through when they perform.
In addition, sophomore Rebecca Johnson admires the dance team for the constant dancing schedule. Johnson has been dancing for 12 years at Gotta Dance of Performing Arts.
She dances 3-4 times a week. With her hectic on-going schedule of dance, it still makes her feel better and relieves stress.
Johnson plans on going to college for dance, and dreams of opening her own study. "[My favorite thing is] just being around my dance families, it makes me the happiest," Johnson said.
Dancing in a studio helps the girls build a background and skill for dancing. They learn terminology, technique and showmanship at the many local studios.
"Girls who dance for a studio bring knowledge on various forms of choreography which we incorporate into our routines. They also bring with them the ability to put on a great show…," said Coach Lindsay Gray.
The team has just won a first place title for their kickline routine at Clover Hill High School for the Kelly Green Invitational. They plan to kick their way to many titles and trophies in the future for kickline and other categories at their competitions.
Clay has been constantly working on improving and bettering the dance team. "We are making huge improvements each day to become better, well recognized dance team that uplifts and represents the school and student body in a positive way," Clay said.