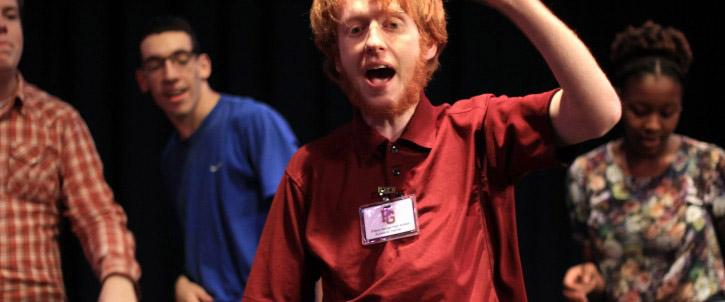 Graduate and former PG Player Devan Andrews has returned to Prince George High School. Andrews is currently a substitute teacher for theatre teacher Daryl Phillips, while he is out recovering from cancer surgery and chemo and radiation therapy. Andrews is also the co-director and playwright of the play which will be performed for Virginia Theatre Association festival.
Andrews has been running rehearsals solo ,with feedback and guidance from Phillips. The play, Passed On, will be performed on the weekend of Oct. 23rd-Oct. 25th.
"The VTA competition is a conference held for three days," Andrews said. "The first day, all the schools perform in front of the judges. Afterwards they go to workshops. On the second day they have fun, and find out the six finalists. The six finalists perform once more for the conference, before a winner is decided."
Preparing the students for a competition weekend can be challenging, but Andrews has experience.
"All of my years in attending this school and in college, has prepared me to be with the PG Players," Andrews said. "I've directed plays and taken courses that have helped me."
With Phillips absent, not only does Andrews have to prepare the students, he also has to give them confidence about their performance.
"I feel that I have to first demonstrate that I'm an adequate theatre maker. I guide them through exercises I have done myself, and tell them stories. They also have faith in themselves,"  Andrews said.
Senior Kevin Foster has been performing  in school plays for five years. Andrews has taught Foster and the other performers to use different techniques.
"Mr. Andrews is a really awesome teacher," Foster said. "He is adding a lot of new activities and has brought a new perspective to the class. He has taught me new techniques on memorizing lines."
Foster feels that their performance will be good.
"I feel very confident about this show. It is a very well written show, and a very talented cast," Foster said.
Along with Foster, Andrews believes their performance will be great. During Phillips time directing plays, the PG Players have a history of competing all across the state.
"We have been in nine VTA competitions since I have been here. We have won several special awards for acting and ensemble work," Phillips said.
With Phillips being absent, he has no idea how his absence has affected the performers.
"This situation is extraordinary, so I [cannot] guess," Phillips said.
Even though Phillips has been out for quite some time, he felt confident in having a reliable substitute and director, whom he suggested for the job.
"He is good and he knows our system.  He has experience as a student in successful competition at PGHS," Phillips said.
Foster will greatly miss Andrews, but he is excited for Phillips return.
"I miss him,  he is talented and I miss his process of how he does things," Foster said.
Phillips will be returning October 12th, just in time for the competition.
"I will be back just in time for finishing touches," Phillips said. "I can't wait to get back. I miss all of my PGHS students and colleagues."