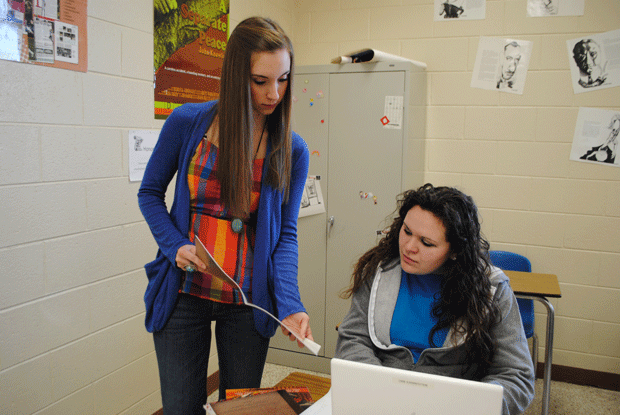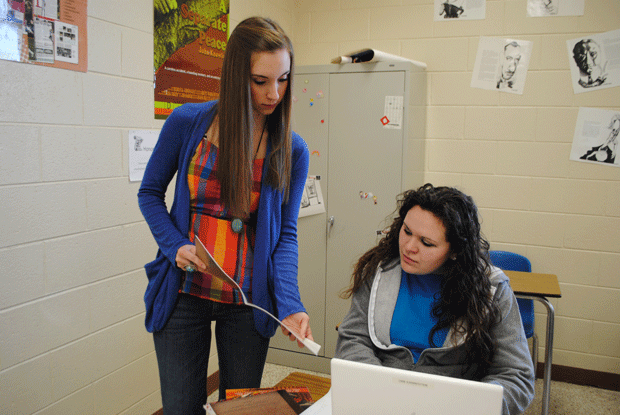 Seniors Jessica Taylor and Courtney Brockwell (left to right) work on picking poems for the literary magazine. Etcetera has been displaying student work since it first started in the 1970s.
By Leah Holliday
Beginning in the 70s senior English students have been producing Etcetera. This is the literary magazine of the school created wholly by students.
Each piece that is placed into the magazine is chosen through preliminary judging. This is done anonymously so that any entry cannot be selected based on a judge's relationship with that person.
"In addition to poetry and short stories there is photography and artwork. The editors try to find illustrations that fit with the literary pieces," English teacher Beth Andersen said.
Currently, working hard towards perfection, senior Courtney Brockwell gives her best to make Etcetera the best it can be.
"[As an editor] I go through the work by choosing which pieces go on the web and which ones get printed, selecting the layout, and collecting stuff and bringing it together," Brockwell said.
Out of the first group of selected submissions the group is narrowed again. The final pieces are then chosen to go in the print magazine or online.
"The staff decides on criteria for each entry and decides on the best one," Beth Andersen said.
After final selections have been made, the editors will choose the way they want to display the work in the magazine. This will begin for the 2012 edition during the week of Feb. 6th.
After all of this work has been completed the final product will be published. The whole process has been done much more rapidly than in previous years. The date of publication is estimated for the end of February compared to the May date of previous years.
"For many years the magazine was printed at the high school, but recently it has begun to be sent out to a printer for better quality. Now there is an online section in addition to the print magazine," Andersen said.
Go to http://trnwired.org/etc to view online pieces submitted for the literary magazine. Or buy a copy for $0.50 from English teacher and newspaper advisor Chris Waugaman in room A6.