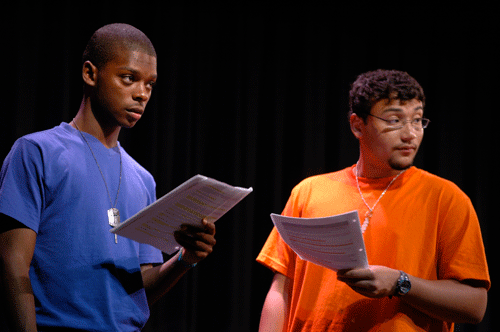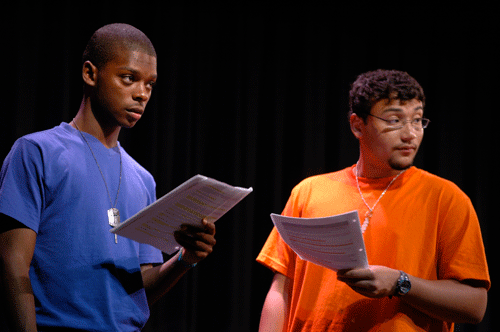 By Olivia Tritschler
At graduation the theater group bid farewell to four veterans in school productions. Sophomores to seniors were given the chance to show off their talent.
On Monday Sept. 20, the new cast and crew was selected for the fall Virginia Theater Association (VTA) play, The Dark Lady of the Sonnets by George Bernard Shaw.
The Dark Lady of the Sonnets is a fictional story of how William Shakespeare met Queen Elizabeth I. The first performance occurred in 1910 at a fund raising event for the National Theatre of England.
"I have tried to raise the level of challenge in the literature we perform each year and it has paid off," theater teacher Daryl Phillips said. "The students have met the challenge and done very well."
From the first practice held on Tuesday, Sept. 21 to the Halloween weekend in Oct., the six-member team will spend two hours on stage after school perfecting the play each day. This poses a difficult challenge with school and practice.
"Practice times are generally every day for a few hours," sophomore Samantha Jennings said. "At this point, I don't work so I am able to juggle homework with practice. It is really important though to maintain good grades. That is a top priority for me."
Junior Gerald Jackson and sophomore Matthew Squires play the Man and the Beefeater respectively. Jennings and senior Rachel Karns-Gall play the Dark Lady and Queen Elizabeth respectively.
With a young cast and a difficult Shakespearian play, a hundred percent effort is necessary in all practices.
"For the cast, we have a fairly new group of students," senior Aidan O'Hare said. "This will definitely be a growing experience for everyone. It is going to be challenging, but it will only make each actor stronger."
Filling the shoes of past theater students seems to be a difficult task in the eyes of the four main characters. Previous experience in other plays and theater classes help these individuals through tough lines and tricky scenes.
"I have trained for theater for the last seven years and I thoroughly enjoy it," Jennings said. "All of the training has brought me to this point and I love the challenge. I will continue to grow as an actress in the art that I love."
A strong show is only as powerful as its back stage crew. The students who make the play run smoothly might not always get the recognition they deserve. Without this crew back stage and working to control the sound and light systems, the show could not go on.
"I set the lighting for the show for each scene and during performances I perform the lighting cues, which is changing the way the lights look for each scene," O'Hare said. "I am also stage manager, which is really just a title that makes me sound official and important. Light board operator is my main job."
A theatrical team is like a sports team. They create new friendships that help them through all the ups and downs, wins and losses.
"I am friends with everyone that was cast," Jennings said. "I think it would be much harder to work with people I don't know because I wouldn't have the history with everybody and I wouldn't really know them.
Last year the play Eleemosynary placed in the top ten out of a total fifty plays who participated. The cast also won a cast ensemble and alumna Meaghan O'Hare won an actor's award. This year's cast has high expectations to live up to.
"My expectations for this year are for us to go in as well prepared as possible so that we can build on the success we had last year," Phillips said. "The qualities I look for in picking any cast are in talent, commitment, good team player skills, and a sense of humor. They need to focus on what we have created and attack and have fun."
All the hard work and practice will pay off when the final production of The Dark Lady of the Sonnets hits the school stage in Oct. during school hours. The play will also be performed in Reston, Virginia, for the VTA competition. This weekend spent with other schools and theater students is a unique experience for everyone.
"VTA is one of the highlights of my year. I always look forward to it because of the talented and interesting people who take part in it," O'Hare said. "The theatrical environment at the competition has the power to inspire, everyone there is so complimentary. There isn't even a hint of competitiveness, everyone loves everyone because we all love theater."