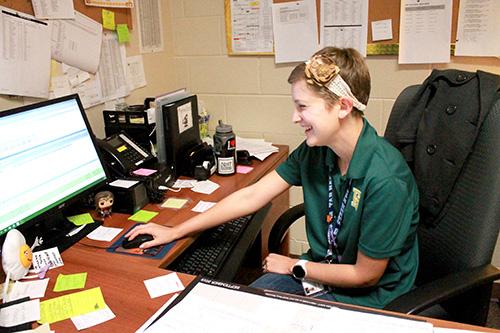 By Emily Hannuksela
Random Acts of Kindness Week is celebrated Feb. 14-20, 2021, and is commemorated by showing more compassion through random acts. 
To celebrate Kindness Week, Prince George County, the Secretary of Education, and First Lady Pamela Northam gave guidance counselor Anna Payne the 2021 Kindness Award on February 17th, 2021. Her inspiration for becoming a kind school counselor began when she was a teenager. 
"I've always really enjoyed working with kids," Payne said. "Before becoming a school counselor, I worked in afterschool programming, mentoring, and as a camp counselor back when I was in high school myself. I really like the opportunity to hear and act with kids about their education, but also their post high school plans, whether that be college or a career. The social and emotional pieces are also important to me."
Counseling in a pandemic can be difficult, but Payne continues to help students and put smiles on people's faces.
"This year, we have to be ready for anything," Payne said. "My day can include anything from writing a letter of recommendation, changing a kid from virtual to in-person instruction, to sending off a transcript, or helping a student in a crisis. Every day is a mix up."
Payne's benevolence is returned through the joy she gets from helping students.
"The feeling of working with kids is similar to receiving this award. I'm honored that I get to interact with such good kids," Payne said.
Winning the Kindness Award is reflective of her caring personality, and she is grateful to be recognized for it.
"[This award] is really cool," Payne said. "I can't think of a better adjective to describe. This is an award for kindness, so it feels very kind."