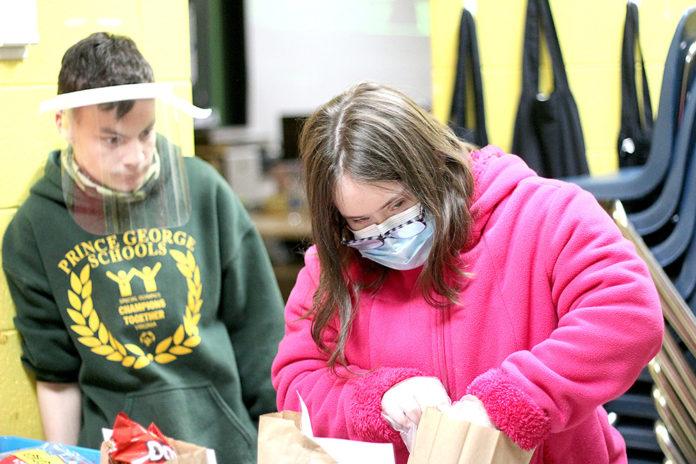 With the crinkling of gloves, staff and students carefully place the ordered snack items into bags to prepare them for delivery.
Champions Together, in addition to their café, also run a snack cart. It is run by the students and staff involved in the life skills program, with adult help, such as SPED teacher Catherine Beasley.
"The Royal Cafe offers cold drinks and snacks throughout the day," Beasley said. "The money goes directly back into the program for community trips, curriculum subscriptions, and we really want to have enough this year to purchase an interactive white board for student engagement."
They provide a multitude of different snacks, like donuts, candy, and chips. Also, drinks such as Monster, various sodas, and Starbucks are sold at an affordable cost, less than the machines in the cafeteria.
"Most snacks are $.50, as are canned soda," Beasley said. "Candy and bottled soda is $1.00. Starbucks and Monster are $2.00."
They do not have specific allergy-free items, but are always open to suggestions from the students and staff.
"We do not have anything specifically for people with allergies, but we do listen to requests from staff and students. If we have enough people that will purchase a type of item, we are happy to try it. A lot of times, those items cost more so we have to keep that in mind".
Unfortunately, because of COVID-19, the cart does not go around the school like in years past. However, snacks are eligible for delivery.
"We deliver to classrooms if the teachers have indicated they are okay with students ordering," Beasley said.
They are also packaged and handled with sensitivity given the circumstances.
"Students and staff wear masks and gloves when packaging and delivering and we have a really big focus on hygiene with the students," Beasley said. "Students who struggle with hygiene or wearing gloves have other opportunities to help not dealing directly with food."
If certain teachers do not allow delivery, there is also the option to pick up.
"For students in classes that do not allow deliveries, we offer between class pick up at the F wing doors of the cafeteria," Beasley said. "Our order form has a dropdown option for between class pick up or for a specific teacher."
Students can order by finding the QR code and link on the bulletin board outside of the F wing doors on the board. On the form, you can pick which items you would like to buy, and how much you will pay in cash.
"The Google Form asks how students are paying and they can select exact change $5, $10, or $20 so we have their change pre-counted in their bag."
After buying, your items will be packaged and delivered to your class. If you are in a class that's about to end, you may want to wait to order.
"Once an order is placed, staff completes a paper form and the order is packaged and delivered, usually within 15 minutes," said Beasley.
Items are available to be sold Monday to Thursday from 7:30 to 2:30, not including lunch. If students are virtual or craving one of the snacks on Friday, ordering is possible on that day is possible.
"We are open to everyone on Fridays, but customers will have to come to F-18 to order or pick up," said Beasley.
While some may think that a snack cart does not have many benefits towards a goal, Beasley believes differently.
"Our whole goal is to teach our kids skills that will help them be as independent as possible, including working in the community, when they leave high school," said Beasley. "The interactions with staff and peers really go a long way with forging relationships with people in the community and learning skills for independence."