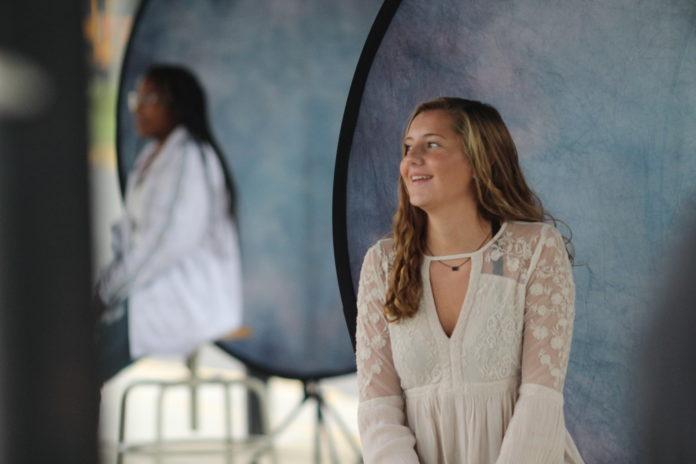 By Kailey Garner
Bustling around the bus loop on September 17, the yearbook staff took on portrait day in a new way. Usually, Candid Color photography is in charge of taking portraits of sophomores and juniors for the yearbook as well as for keepsake memories of the students' school year.
However, due to Covid-19, outside vendors were no longer allowed to visit the school. The Royals Media staff was determined to have photos of everyone in the yearbook, so it was decided they would take on the task of photographing both in-person and virtual students.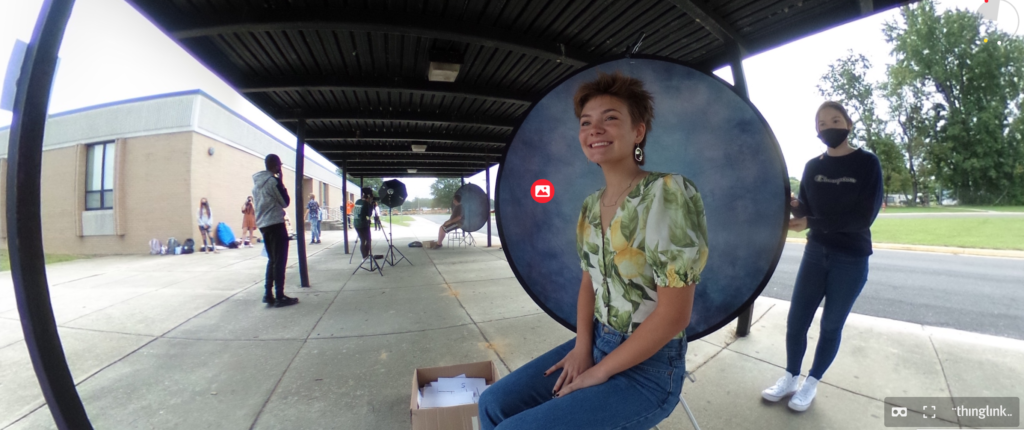 The optimistic staff prepared themselves to persevere through the challenges that would come with the responsibility of taking portraits. Four camera stations were lined up under the bus awning, operated by Rachel Blumenshine, Katherine Thacker, Alessia Ingargolia, and Zoey Vreeland. Each student photographer had an additional staff member by their side to adjust the backdrop or flash when needed.
"To ensure the photos came out good I would take more than one photo and adjust the light if needed to avoid over or under exposure," Zoey Vreeland said.
The students who aided in taking photos gained knowledge on techniques in photography.
"I learned about bouncing and moving the flash to adjust the lighting. It was a nice project to add to photojournalism and was a really good hands-on experience," first year yearbook reporter junior Alyson Harris said.
While the photographers were busy taking shots of students, other staff members kept everything in order. Sophomores Samantha Epperly and Mackenzie Jackson directed students where to go once they had reached the bus loop.
Sophomore Maclay Cerny, juniors Emily Hannuksela, Meliah Mason, Amos Demps, and senior Kai Molina-Bright wrote the names of students getting their photo taken as it is imperative to have the correct name of each student in the yearbook.
"I learned communication is key or else that would've been chaos," Demps said.
Meanwhile, sophomore Kayla Patton, junior Helene White, and seniors Ande Davis and Emma Berry took shots of the surrounding action during the event.
"One lesson I learned is we have to work fast and efficiently. I feel like our team worked extremely well with the students and were very organized," Helene White said, first year yearbook staff member.
On September 18, virtual students drove up to the bus loop and had their picture taken by senior Chandler Coleman in addition to the previous staff photographers.
"I felt like I got better at speaking and interacting with people; overall helping with my interview skills," Coleman said.
Ultimately, portrait day was a huge success and left students and staff members with a positive outlook on this aspect of their school year, amid the Covid-19 pandemic.