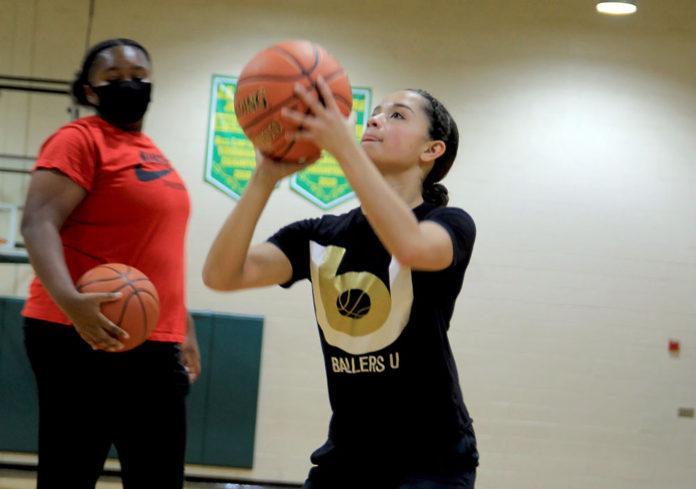 With the sound of tennis shoes squeak-ing on the slick gym floor, freshman Kayla Callahan and sophomore Tyra Hall work on their dribbling skills for the girls basketball team.
For a long time, playing basketball has served as an escape for many of the players, but due to Covid-19, changes had to be made to their practices. This had no effect on the team's love for the game. The team is enlightened to be able to get some playing time in before their postponed school season.
"When I stepped back on the court, I felt like I never left, in my head I hear the crowd cheering, my sneakers on the floor, the ball dribbling, the cheerleaders chanting, and it kind of all comes back into play," Hall said.
The pandemic has affected almost everything in everyday life. One of these things that has been changed majorly is sports, especially girls basketball.
"Some main safety procedures and precautions that are being used to keep everyone on the team safe are daily temperature checks, maintaining social distance, individual equipment use, sanitizer use, smaller groups and sanitation of equipment after use," said Coach Kenya Grissett.
Each season is definitely different, but nothing like this year has ever been experienced before.
"This season is like nothing we've ever experienced," Hall said. "As we all come together, even through social distancing, we are going to become closer as a team because we all understand the limited amount of games and time for our season. I know we are going to be very successful, the Lady Royals are aiming high, maybe even an undefeated or championship year."
Though Covid-19 may cause a strain to a sport for many players and coaches, the PGHS basketball players have an inspirational mindset though it. Grissett is still a little weary, yet confident in the decision for players being allowed on the court again.
"I feel apprehensive but excited about getting back on the court," Grissett said. "I feel the governing association will not allow us to play if they feel it is not safe. Therefore, if we are able to carry on our season, it will be because they find it safe enough for all involved."
The players are ecstatic to be back on the court and back to bonding with their team. The girls are back to doing what makes them happy and what's important to them when playing.
"I think getting back on the court and reconditioning myself is an awesome opportunity," Callahan said. "Not only am I picking back up my skills from last year, I am also learning new things. I think our team will benefit greatly from this experience. It is giving us an opportunity to learn each other's strengths and weaknesses."
Although being athletic and playing sports on a team gives you physical benefits, it also has some mental and social aspects.
"I think the most important part about being on a team is that it teaches you how to work with others," Callahan said. "I especially think this is an important trait to have as we continue to grow up and eventually go out into the real world. I think working with others is something that we will have to do our whole lives and being on a team is a great way to get a headstart on practicing those skills."
Even with everything that has been modified, there are still some core values that Hall feels everyone should remember.
"Whether you're the hype man, the one who gives 120%, the one who's always there for their teammate, the captain, the one who gives the great pep talks, or even the person who always gets down to do the extra push up or the extra sprint, just make sure you're always there to add the team," Hall said. "The other important part of being a part of the team is to make sure you grow that bond or the family. Any team you're on should always be building something to last which is really what sports as a whole are all about."
Even coaches get long term benefits from coaching high school teams.
"The most important thing to me about being able to be a part of the team is the relationships you build," Grissett said. "I still communicate with players and parents from my past. These are people I would have never known if it wasn't for the game of basketball. I also get to play a part in the development of young women not just as players but future mothers, lawyers, pharmacists, and teachers."