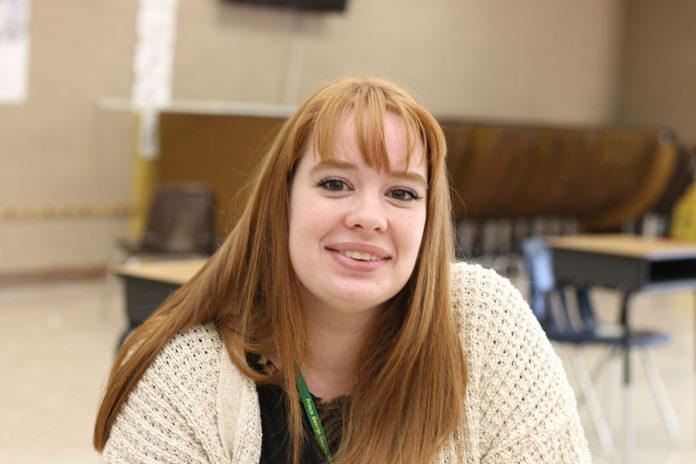 As students walk down A-wing and file into her classroom, a new collaborative English 11 teacher awaits to teach unfamiliar faces.
After graduating from the University of Lynchburg while majoring in psychology, Prince George native Sara Chandler began her career as a paraprofessional before becoming an English teacher. 
"I was a paraprofessional in a classroom with self-contained students, so I was below the teacher working with them to make sure the kids were doing what they needed to be doing. I wasn't co-teaching like I am now, but it was a little bit similar," Chandler said.
Chandler knows that working as a paraprofessional slightly differs from being a collaborative teacher, but both are crucial to school systems.
"You have a regular teacher who is in the classroom teaching a lesson, then you have another teacher who's in there to make sure all the students' needs are being met and that they're actually paying attention, focusing, and doing what they need to be doing. The two teachers in [the classroom] tag teaming sometimes," Chandler said.
The advantages of being a collaborative teacher benefit both teachers in the classroom along with the students.
"Being the collaborative teacher helps some of the other teachers who are used to being on their own to learn about kids they work with who are more on the self-contained side," Chandler said.
Due to the pandemic, this school year will look slightly different than most years, but Chandler is staying hopeful.
"I would expect [the school year] to be a little bit on the crazy side because we're still getting used to the Covid-19 situation, but I think we'll be okay," Chandler said.
The heart of Chander's aspirations to be a teacher are the students she teaches.
"[My inspiration for being a teacher] is trying to help kids learn more and be comfortable in their environments," Chandler said.
As a first year teacher, Chandler has set her objectives high for the rest of the school year.
"[My goal is] to try to get everyone through as easily as they can and make sure everyone is doing what they're supposed to be doing and learning what they're supposed to be learning to graduate," Chandler said.