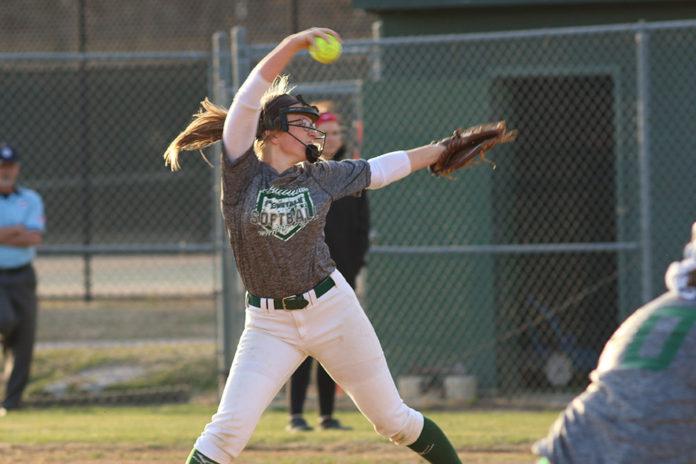 With the sound of the ball hitting the mitt, head coach Nealan Chandler has his pitchers loosening up. Leading up to opening day, Chandler is still working on who his go to ace will be this year.
The Lady Royals are coming off of a 11-10 season last year, in which they now try to improve on that and get farther into the playoffs. It will be a tough season for the Lady Royals considering only four players from last year's team are returning.
"Each of these players are coming to us with a different skill set and how does that best help the team," Chandler said. "They could have always played one position and I look at them and say this is where we need you to play. It's finding the right mix between where they are good and where we need them to get to."
Some of the potential pitchers to start opening day in the circle from last year's four are senior Erin Miles and junior Rachael Blumenshine. The new additions that Chandler can also see helping out with pitching are freshman Jaylan Powroznick, freshman Georgia Stuckey, and freshman Sarah Graham.
"We have all been working on mostly locating our pitches," Powroznick said. "Coach Chandler says that's the thing he looks for and needs us to have down."
With the addition of 12 players coming up the system to varsity, Chandler had to make a big decision for this season. For the 2020 softball season, there will be no junior varsity team this year, but it is set to return in the future.
"We started to see this winter that this was going to be a possibility that our numbers would be down," Chandler said. "We devised how we could build the program back up. What we decided to do this year was have a bigger varsity team and with the middle school team, I already instructed those coaches that they would have a bigger team."
Last year's junior varsity was very successful under head coach, Katy Lampman , so they will definitely be benefited.
"The JV [junior varsity] team last year was really good so their skills are good," Chandler said. "I'm actually looking for all of them to contribute in one way or another."
With the season leading up, Chandler has been doing specific drills at practice, looking to see who is the best option at each position.
"You have the skillset to play here so this is a better position for you to play for us," Chandler said. "It's finding the right mix between where they are good at and where we need them at."
With the really young team this year, the clutch plays that require experience will have to be something to watch this year.
"Chandler always pushes his players to stay focused and locked in so no mistakes are made.
One thing that Coach Chandler has taught me the most is when you step on the ball field nothing on the outside matters and you are there to play hard and be the best you can be," Miles said.
For the younger players, they will try to learn from the few experienced players so they will be ready in clutch situations.
"I think the upperclassmen should push us hard to make sure we're getting everything done and done right," Powroznick said. "Also, I think it would be a good thing if the girls tried to outwork each other because it would definitely make them work harder and realize what they need to do."