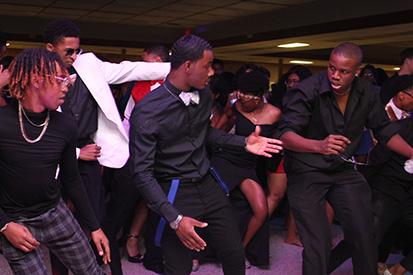 Week Jan. 6 – Jan. 10
The PGHS PTA is hosting The Winter Dance on Friday, January 10th, from 7 PM to 10 PM in the commons. All students are invited to attend and dress attire is casual. Tickets will be on sale during lunches from January 6th until January 9th. Date forms can be found in the main office and must be turned into Ms. Taylor by January 7th.
Forensics will be practice on Thursday, January 9th at 2:40 in room A29. They are preparing for the tournament on January 14th. If anyone has not previously made a meeting, they are still welcome to attend. Please see Mrs. Andersen with questions or interest.
Every year Electric Co-ops from around the U.S. send high school juniors to D.C. for the annual Youth Tour. It is an all expense paid trip to D.C. for five days. If a family uses Prince George Electric for electricity, please see p. 22 of this month's Cooperative Living magazine for details. Call 804-834-2424 or visit PGEC.coop for information about applying for this year's Youth Tour. Application deadline is Friday, February 21, 2020. Come see Ms. Hasley in A-23 with any further questions.
Baseball conditioning will be held Monday, Wednesday, and Friday from 3:00-5:00 at PGHS until tryouts begin. To participate in conditioning, one must have an updated VHSL physical and a signed head injury-risk acknowledgement form on file with the athletic department. Conditioning will be held outside as much as possible, so please bring appropriate attire.
There are a few spots left for BETA's trip to state convention February 14-15, 2020. The total cost of the trip is $100. A mandatory meeting will be held after school on Tuesday, January 14, 2020 from 2:40-3:30 for those who are attending.
Students and club sponsors get ready for club picture day on Wednesday, January 15th. Sponsors should receive an email with times. All photos will take place in the auditorium. Club members will need to show a photo ID and club membership card.
NO NAME-CALLING WEEK 2020: Between 1 in 4 and 1 in 3 U.S. students say they have been bullied at school. The GSA will be celebrating No Name Calling Week January 20-24. Please stop by and sign the pledge. For No Name-Calling Week 2020 we are encouraging students and educators across the country to create artwork using the theme of #KindessInAction, because we believe that art in any form has the power to change school climates for the better. All submissions are due by February 15th. Stop by room F-18 to learn how to submit your poetry, art, short story, video, etc!
SCHOLARSHIP DEADLINES:
GRASP Community College Pathways Scholarship (Deadline 4/17/20) GRASP Last Dollar Scholarship (Deadline 4/17/20) American Association for Blacks in Energy (VA) (AABE) Scholarship (Deadline 3/15/20) Jackie Robinson Scholarship Foundation Scholarship (Deadline 2/1/20) Alpha Kappa Sigma Chapter of Phi Beta Sigma Fraternity, Inc. (Deadline 2/19/20) Woman's Club of Prince George (Deadline 1/10/20)