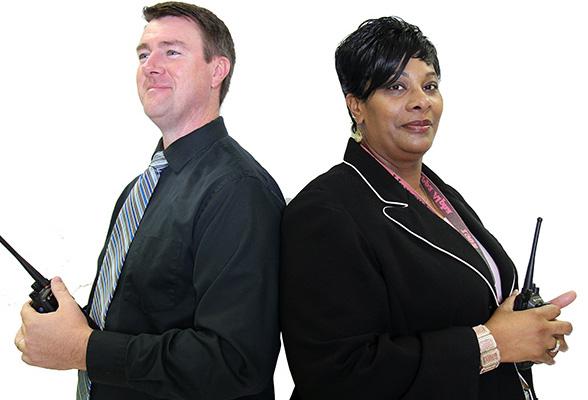 Flooded with new faces and experiences, new assistant principals Matthew McAllister and Donna Branch-Harris step into their new roles at the high school level.
Both McAllister and Harris have worked within the county for many years and the high school was a logical step forward for their careers.
"It was a big decision," Branch-Harris said. "I've been doing elementary, for over 21 years. I'm in school also and I felt that in order for me to be a better student and be a better administrator, it's time for me to extend more and get that secondary experience."
Branch-Harris is a challenger and has always pushed herself to be a better teacher and administrator. This is how she ended up in Prince George.
"After being in Petersburg for four years, I was there with family, my sister was there, she was a great teacher so I was basically under my sister's wing, it was time for me to get out from under her wing and get out on my own," Branch-Harris said.
This realization sent Branch-Harris to Richmond for four years until the commute became too much and brought Branch-Harris to South Elementary.
McAllister has a little different experience on his journey to Prince George schools. After graduating from Virginia
Commonwealth University with both his masters and bachelors, he came back to his hometown and began teaching at Harrison Elementary.
"I always wanted to come back home so that I could impact the community that raised me," McAllister said. "I was actually hired by Dr. Bingham at Harrison elementary and I absolutely loved working there."
The new position has been quite a transition for McAllister going from student to administrator here that the high school.
"It was a little weird my first couple of weeks but now it just feels completely normal and I absolutely love being back in a place I was in for four years and was such a large part of my formation as a teenager," McAllister said.
For both McAllister and Branch-Harris, education was a second thought. Branch-Harris did not even get her first degree in education.
"I graduated in '92 and I earned a business management degree with that," Branch-Harris said. "Then I worked in business just for a little bit but I always worked in schools as a volunteer."
McAllister also was also unsure of where he wanted to go in his career and decided to take a year off between his years at Richard Bland and Virginia Commonwealth University.
"When I went to college the first time I actually was thinking about engineering because my grandfather was into engineering but that thought disappeared pretty quickly…," McAllister said. "I didn't want to be that person that was in college and switched majors 15 times."
Both discovered their passion for teaching through volunteer and substitute teaching in areas they felt comfortable. McAllister, while working two other jobs, realized teaching was his calling in a third grade classroom at Beazley Elementary.
"It was a third grade class at Beazley and we were having a really good discussion about planets and it was right then and there that group of students and the excitement, the passion they had made me decide that this is what I want to do for the rest of my life," McAllister said.
Harris enjoys her time in Prince George but eventually sees herself at a university teaching future educators. McAllister wishes to impact the community by pushing himself to higher places in the county and to give words of wisdom to those students here at the high school.
"Enjoy the time you have here," McAllister said. "Seek out those who will be helpful to you, not just teachers but friends and classmates as well. Make it a most enjoyable high school experience through that."