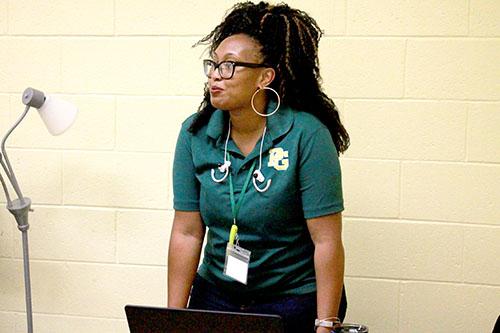 Walking through crowded halls full of teenagers incites excitement and fear for Leas Hamilton who is coming to teach at the high school after teaching elementary students for ten years.
Hamilton is a new collaborative teacher who was looking for a change of pace in her career.
"I wanted to try something different," Hamilton said. "I had been at an elementary school for ten years so I wanted to try a different part of my job."
The decision to become a teacher came from Hamilton being the voice for her mother for several years. Being the translator for her mother's fluency disorder inspired Hamilton to be the voice for school aged children
"My mom has a fluency disorder, so she stutters, so I was her voice as long as I could remember, so she was the reason why," Hamilton said.
Now what inspires Hamilton is the students. Hamilton looks forward to making connections with students in a different way now that she is in a different environment.
"I am excited for just engaging with all the students and seeing how much they grow throughout the year," Hamilton said.
This year Hamilton is teaching English 11, Algebra II, and Algebra Lab.
The transition from elementary school to high school was intimidating to Hamilton. Hamilton feared that the change would be overwhelming, but she has found her first few weeks in her new position enjoyable.
"I was actually nervous about starting at the high school because I had been at elementary and it's two different ball games, but I love it so far," Hamilton said.