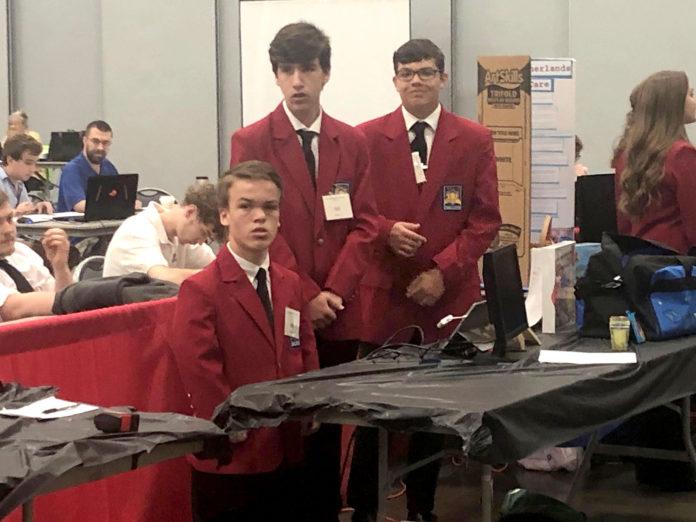 Three PGHS members of SkillsUSA placed second against other schools in the state competition this past weekend. At the competition students from the high school presented care bags they made for children who are in in the foster care system.

The care bags created by the team were presented to the judges as a way to make the process easier for both the children in foster care and their families. Junior Carter Marks felt like the care bags could be a way they could help show support to the people who have to go through this traumatic event.

"We decided to do the duffle bags to kind of maker the process more, I wouldn't say easy because it's foster care, it is not anywhere near easy for kids to be taken away from their homes, so we wanted to help them and make it as easy as possible… We just thought, 'If I was taken away from my home I wouldn't be happy,' first of all, and they also may not know what is going on, so to have a teddy bear and something like that to kind of be something to be comforted with," Marks said.

In order to be able to compete in this competition, students needed to be able to not only come up with a creative idea on how they can make a difference, but also fund and execute the project. Students had to collaborate in order to have the best presentation possible for the judges.

"We had to find different ways to fund the bags that we gave, once we got the funds it was pretty simple, we ordered the bags, and gave them to [Social Service workers]," junior Max Bennett said.

The duffel bags were able to be filled with goodies and items that will be comforting to anyone who receives them. Stuffed animals, blankets, and even board games were in the bags as an effort to make the transitions as smooth as possible.
"When we took the bags over to the Social Services Office and the smiles on the ladies' faces' when we handed them the bags. We made 21 duffel bags, and each bag contained a teddy bear, and a blanket, but also in the bag they had puzzles, games, coloring books, it all kind of depended on the gender, we made half boy, half girl bags. In the boys' we had Lego sets, and the girls' we had journals. We bought stuff for the visitation room they have at social services for when the parents come and visit with their kids, to make that process as easy as possible," Marks said.

Though placing second overall means the PGHS SkillsUSA will not move on to the national competition, the students involved were able to make a difference in their community by showing their support for the cause.

"We actually made one of the judges cry because he is a foster parent," Marks said.