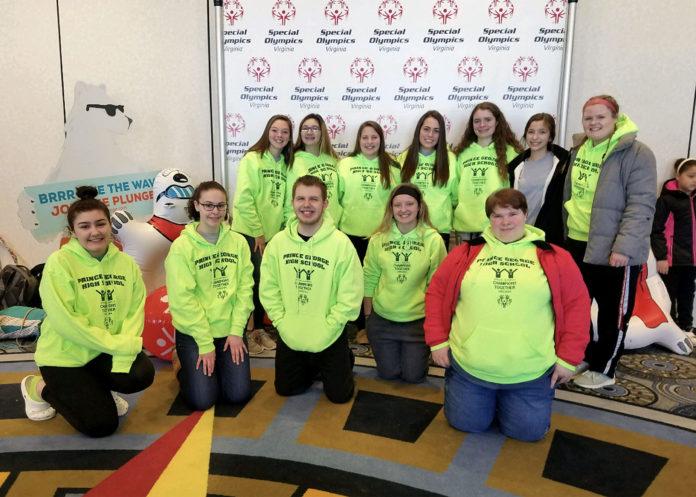 Adrenaline pumps through the variety of participants' veins as they make the sprint from the comfortable sandy waiting area to the freezing Virginia Beach water. This Polar Plunge has been described as a life-changing event for attendees, whether it is at Virginia Beach, Richmond, New River, Prince William County, or Fairfax.
The Polar Plunge is an annual fundraising drive that raises money for the Special Olympics. In order to plunge the donor must raise at least $100.
All donations received from the plunge are used to benefit Special Olympics Virginia. This monetary aid is essential to their mission to provide year-round sports training, leadership opportunities, engaging competitions, and health services to more than 23,000 athletes of all abilities throughout Virginia.
Prince George County Champions Together took a group of club members, who each raised $100, and a group of Special Olympics athletes to the Virginia Beach Polar Plunge on February 2nd. The plungers in attendance ranged from N.B. Clements' students to seniors.
"I enjoy watching the students do the activities, it makes me feel good not just seniors are the only ones doing anything," Champions Together sponsor Sherri Jones said. "Seniors get a graduation cord, so many of them are doing it to get the cord, but I can tell that all the members of the club just enjoy all the activities. My seniors have taken charge and I have a couple sophomores that have taken charge as well. I just enjoy watching the students because they enjoy working with our special needs athletes."
The goal amount of donations for the Virginia Beach Polar Plunge was $1,200,000. With the help of plungers throughout Virginia, including Prince George Champions Together participants, a total of $1,168,074.
The Virginia Beach Polar Plunge festival included beachfront races, a parade, costume contests, an artisan marketplace, live music by Kaboombox, Hawaiian-style food from Aloha Snacks, and unlimited Wawa hot cocoa were all offered at the Virginia Beach Polar Plunge. An additional event offered was the SunTrust Dash and Splash Challenge, which consists of either a 4-mile or 1-mile run before taking the plunge itself. However, the headline event of any Polar Plunge is the sprint to the freezing Atlantic Ocean surrounded by a crowd of fellow plungers.
"Participating in the Polar Plunge was a lot of fun. It was really cold, but obviously an exciting experience. We were waiting in line a long time so we were really cold, then we sprinted to the water and it was like an adrenaline rush," senior Kyla Nase said. "It was really exciting and a good atmosphere to be involved in."
The annual event helps inform people about the importance of Special Olympics and to spread awareness of the purpose of the organization. It is also used for some to learn something new about Special Olympics and about themselves in the process.
"The plunge impacted me because I've had the opportunity to work with special needs kids and it's very eye opening to me," Nase said. "Participating in this experience was changing, because I was able to dedicate a little of my time to a greater cause."