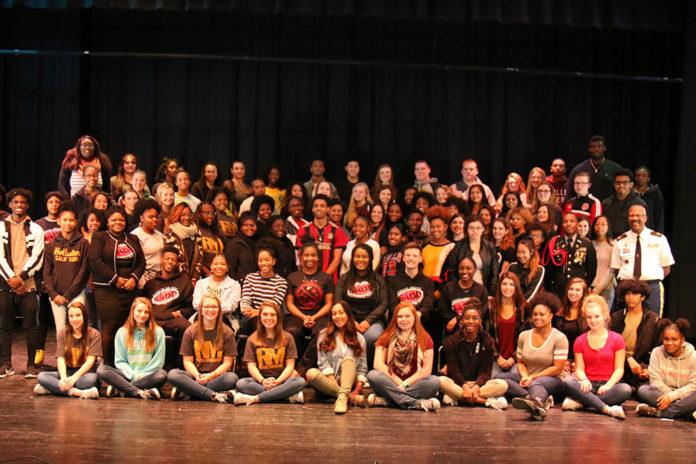 October is Bullying prevention month and students all throughout the country are participating in programs to put an end to bullying and abuse. One of these programs is with the SADD club and the James House which tells teenagers the signs of bullying and abuse.
"Every year in the month of October we [SADD club] collaborate with the James House here in Prince George Virginia and they have a representative come out and actually do some hands-on activities and give teenagers some information about bullying, domestic violence, how to get help, and how to detect the warning signs [of domestic violence]," said Takisha Ogunyemi, the teacher sponsor of SADD club.
The permission forms for the James House seminar are outside of B14. The James House will be at the school on Tuesday, October sixteenth. Any student is welcome to participate and learn how to handle bullying situations.
"I think it is very important to bring awareness to this subject, to this concern because a lot of people that get bullied are afraid to speak up and defend themselves or just to tell someone about it, Mrs. Ogunyemi said, "so bringing it out to the attention of everyone not only helps the person that is being bullied but it also helps the person who is bullying, because then they understand the things they are doing are hurting others."
Philip Jones, a guidance counselor, talks about the long-term and short-term effects bullying has on students, noting how some effects can become extreme. Any amount of bullying has an effect on students and none of them are good.
"You have got kids who do not come to school and try to duck classes or skip certain classes because of whatever is going on, sometimes they isolate themselves at lunch or in the locker room… just because they are being picked on,"said Jones, thinking about the short-term effects of bullying, "some kids slip into depression, some of them slip into mental health issues, I have not seen this first hand myself but, of course, we have all seen in the news where some kids take their own lives, those are probably the more extreme long-term effects of bullying."
No matter the effects, bullying is still wrong. It is better to speak up than be a bystander, though that might be easier said than done.
"For students it's not always easy to feel like you can step up and say something… I think for most of the times I have had situations where other students have helped others that were being bullied, it was a matter of if they were not saying something to the teacher in that class or another adult that was around, then they would come in and let a counselor know," Jones said, "It can be anonymous, because some people do not want to have their names associated with something because they feel like they are telling."
But the most important thing to remember about a situation is to tell an adult, it could be the most helpful thing one could do. But a bit of kindness can make all the difference.
"You should make an adult aware of the situation or you should try and help them, like if someone is walking by and they get their books thrown on the ground then you should help them with the books or walk them to class," SADD club president Mechellet Dennis said.