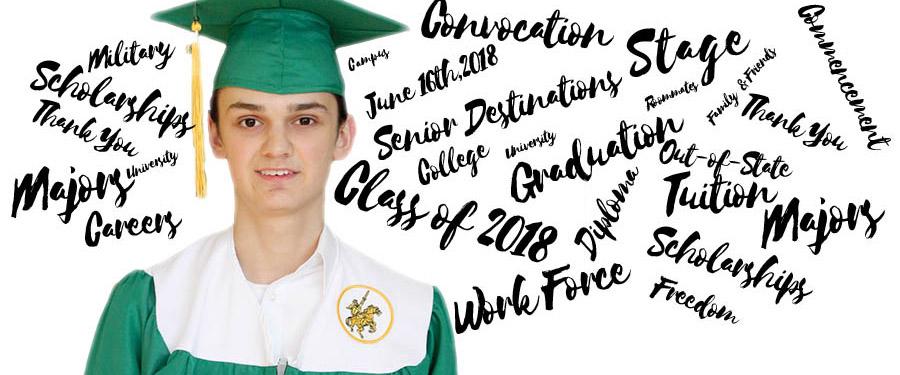 As senior Elijah Ozbat swiftly raises his hand to answer the next question during a review, everyone in his class stops and listens to what he has to say.
With only 36 days until the Class of 2018 graduates from high school, Ozbat reflects on where his academic career has placed him today.
"I'm very excited about graduation. I think it will be a great symbol of everything that I've accomplished and that all my classmates have accomplished, and I think it will be a great stepping stone for the next section of our life," Ozbat said.
Ozbat's academic achievements have been an inspiration to his peers and teachers. As Ozbat leaves this chapter of his life behind he shares how he stays motivated in school.
"I just feel like for me personally I just have an innate drive to do well, and put myself out there. I know to challenge myself and sometimes it can get hard because I can face difficult tasks. It may seem like it's impossible but all of a sudden I just think deep down and just find that motivation," Ozbat said.
In Ozbat's past high school years he has had to face many difficult obstacles. He describes how he manages the tough workload.
"Sometimes it can be pretty tough for me because, if I'm being honest, I procrastinate a lot. It's a habit that I wish I could break and I'm working on breaking, but to me the most important thing is just to organize myself," Ozbat said. "I just have to make a schedule of what I need to do for the day and just try to stick with it as much as possible."
Ozbat will be attending Emory University in the fall and he is thinking about majoring in chemistry and marine science.
"My favorite overall subject is science," Ozbat said. "I've always liked science because it seeks to look at the problems of the natural world and find ways to solve them. I think it's just really amazing how far we've come from scientific advancement from the past hundred years. It's just a feeling that I'm excited about and I want to be a part of. I'm just really interested in it and I like studying it."
Currently Ozbat's achievement in school has landed him a spot to be in line to be the class valedictorian.
"I think the most important thing I could stress in my speech is for everyone to just examine their time in high school… see what they've done and not to limit themselves from what they think they can do, and to just try and see what they can do with their life… use their studies and their experiences going into college, their skills, and whatever their goals are to make a positive impact on their communities," Ozbat said.
English teacher Beth Andersen teaches Ozbat in AP Literature.
"Elijah is incredibly smart, but is a reserved person; however, he participates quite a bit in my English class, and the other students look to him as a class sage," Andersen said. "They know that his comments are always thoughtful, insightful, and thought-provoking for his peers. Even though he is quiet, Elijah is kind and enjoys a good laugh as much as anyone does. He is very good-natured and leads by example."
Andersen added that she thinks Ozbat would be the perfect candidate for valedictorian
"I think he would be an excellent valedictorian, because his peers really do respect his intelligence and look to him not just for right answers, but for wisdom," Andersen said. "He's mature and focused without being  arrogant or off-putting. If he is valedictorian, I'm confident his speech would be inspirational and encouraging."
One of Ozbat's long term goals is to push himself further with his school work when he goes into college.
"As I go into college I'm working to challenge myself academically," Ozbat said.
Before Ozbat leaves the high school for his next journey in life he leaves his advice for underclassmen.
"Be aware that as you continue to advance that you have a little more freedom and a little more of a choice to decide what kind of classes you want to take," Ozbat said. "I would encourage underclassmen to challenge themselves and maybe put themselves a little bit out of their comfort zones."