Words flood the pages on which senior Wessam Hazaymeh writes her stories. She strives to create an image for others to experience.
Hazaymeh has been thoroughly involved in the Royals Media journalism groups for the past three years. Hazaymeh also takes an interest in photography, and currently takes pictures for the staff.
"I was usually just the quiet kid; I kept to myself," Hazaymeh said. "But then ever since sophomore year a new me, a me I like better, came out just for journalism."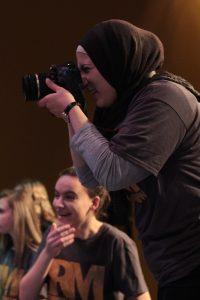 Students like Hazaymeh have an opportunity with the Journalism Education Association (JEA) to enter several contests during the Scholastic Journalism Week, which is next week, February 18th-24th. This year's theme is 'Student Voice, Student Choice.' Journalists can either enter an individual essay writing competition or they have a chance to feature their staff on the JEA Facebook and Twitter.
This is an incredible opportunity for young journalists like Hazaymeh. This could be the chance for these writers to really learn more about journalism.
"With journalism people can really realize their talent and their worth and that their stories are really something so meaningful to help others feel comfortable with themselves," Hazaymeh said.
On their website, the JEA encourages anyone who is interested to promote the Scholastic Journalism Week in any way they can. The site even offers some ideas on celebrating the week such as the photography portrait project, video deadline updates, and putting promotional fliers up around the school the Friday before the week starts.
This allows the Scholastic Journalism Week to be more inclusive. People with talents in photography and art, such as Hazaymeh, have a chance to be a part of the event if they decide not to enter the contests.
"I joined the photojournalism class after the high schoolers came to Clements and they gave a presentation about why you should join one of the journalism classes," Hazaymeh said. "And yearbook was the one that really stood out to me just because at that time I was really into photography, and I still am."
Hazaymeh has had an interest in photography since her 7th grade year and has only built on it throughout the years. However, this senior is a person of many interests and cannot decide what exact career she wishes to pursue.
"I have a lot of interests and at some point I want to do something in the engineering field, but I also like being able to be a storyteller in a different way than just creative writing. Rather than have someone else's voice tell the story, it is nice to be able to be a part of showcasing stories," Hazaymeh said.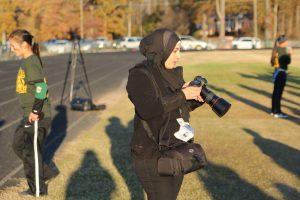 When taking photos, Hazaymeh gets her inspiration from songs and lyrics she hears. But as for writing, she follows Noor Tagouri on social media, who is also a hijabi journalist. She feels a sense of courage and pride seeing a woman much like herself following her ambitions.
"I think I look to her as an inspirational role model especially for having the courage to go into that kind of field knowing that you're going to be working with a lot of people, and a lot of people are going to have opinions about you," Hazaymeh said.
The JEA is trying to encourage young journalists to have the same courage and inspiration Hazaymeh experiences from Tagouri and to write down what they see and what is going on in the world around them. The Scholastic Journalism Week is ultimately a method to encourage students to stay involved in their writings.
"Yes [I plan on writing still], because right now I think the first step is getting into college and then deciding as to what career path I want to go down. I have so many interests in life and I feel like I can't trap myself in one thing. But then it comes to the point where I realized that journalism allows me to explore those interests," Hazaymeh said.