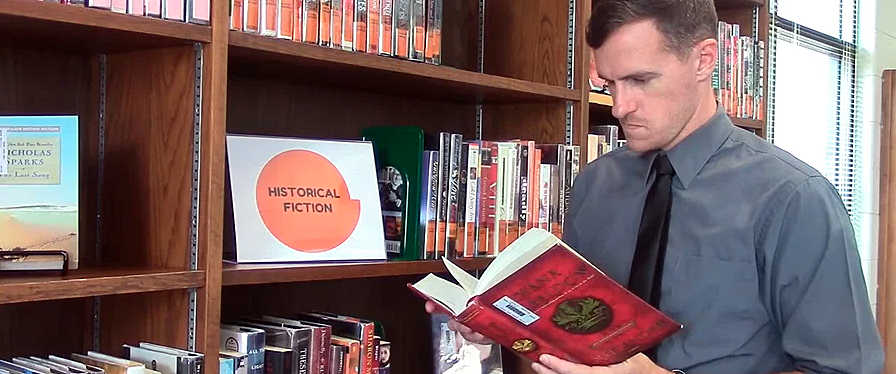 Owens Transitions To Library Position from PGTV NEWS on Vimeo.
Library Media Specialist Levi Owens has been an English teacher for many years, but at the end of his 13th year he decided to take on a new challenge.
"My job is librarian, I am a collaborating librarian with Ms. Heath, this is my first year in this position, and so I'm kind of learning what that means from day to day," said Owens.
Now that he works in the library, he has a chance to broaden his horizons when it comes to reading.
"I do like to read a lot, yes, that's a great question. I love to read, I grew up reading mostly fantasy and sci-fi, but I am all about some realistic fiction. I'm trying to force myself into historical fiction, although it's not my natural proclivity, and I am really into graphic novels," Owens said.
There are many new projects taking place in the library, such as adding new items to the Graphic Novel Section.
"We are trying to build the graphic novel section, which is I think really important, especially since it's such a booming genre or format of literature," Owens said.
"Right now, we're working on orientation for the sophomores and working on a banned books week display," said librarian Allison Heath.
Although he liked being a teacher, he does not plan to return to teaching for the time being.
"I never really plan to return to teaching, I feel like if I have that in the back of my head, then I won't be able to give my 100% to being a librarian and doing this job as well as I possibly can, so I'm not thinking about that. I always can, I'm always licensed to be an English teacher, but it's not really necessarily in my near future," Owens explains.
Come see the new Library Media Specialist Mr. Owens in the library every day from 7:25 to 2:55 and make sure to have your agenda and ID with you.