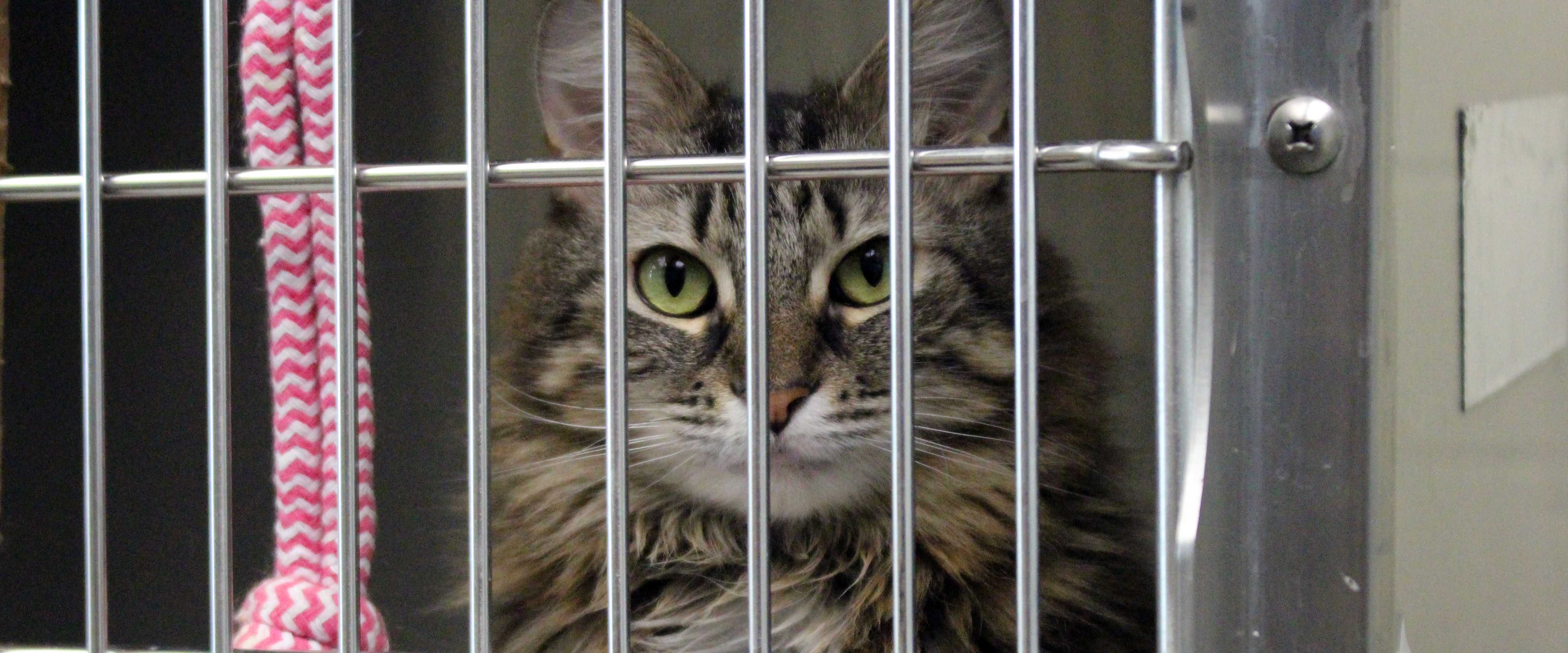 The Prince George County Animal Shelter is at full capacity. "Some people label animal shelters as a pound, mostly because of movies and TV shows. Some think it's a place for bad people and bad animals," recent volunteer Allison Gray said.
Unlike the Disney movie The Lady and the Tramp, the shelter is not a terrifying place for dogs and cats. The PG Animal Shelter greets people with a smiling face. and is in top condition. Even when full, the shelter is still clean and very well-cared for.
Despite the new facility and warm environment some would rather seek ownership of a pet either from the classifieds or Craigslist. Most of the time that can be unsafe. "[I would rather adopt] from a shelter," Gray said.
It may be a safer way to get a pet. Most of the time, the owners from Craigslist are just trying to get rid of the animal without a second thought. From shelters, the pets would most likely be "fixed" and vaccinated. And the shelter staff will make sure that the pets find their forever home.
Animal shelters aren't just full of ugly, mean dogs and cats. Shelters have a mass variety of breeds. Even some purebreds can be found. Not all shelters have a time limit on their pets. Many keep animals indefinitely while looking for their forever homes.
"Our longest dog has been here since last year in March," said Job Greene, Animal Services Supervisor. "We even have a few dogs out with a foster family, same with some cats."
Not all animals who are in the shelter were strays. Such as King, an American Staffordshire Terrier & Pit Bull Terrier Mix. He had a home before the shelter. Except his owner or owners were very neglectful and abandoned him when he was a puppy with a collar around his neck no doubt. He quickly grew into it but the collar began to become embed into King's neck and cut deep into his neck. Despite this, he is still as sweet as a puppy since the officers found him.
Also, some people surrender their pets when they are not able to care for their pet any longer. Some people are in the military and some housing areas do not allow a certain type of pet; in most cases, a certain breed of dog is not allowed. Most of the time, it's Pit-bulls or Rottweilers. Some animals are lucky enough, some must be put down sadly.
"It [really] depends on the animal. Like, if the animal has rabies then it's guaranteed that the animal will be put down," said senior Anna Simmons, former PG Animal Shelter volunteer.
"If a stray is found with an ID, such as a microchip, it will be held for ten days. Without an ID, it will be held for five days before it will be made available for adoption," Greene said.
But if you're looking for a loving companion. The animal shelter offers reduced animal adoption fees throughout the year.  Recently fees were only $14 from February 2nd through Valentine's day.
In addition, the Prince George Animal Shelter will be transferring some pets to Colonial Subaru on Feb. 25. for an adoption event in their new mobile adoption trailer. It will allow the shelter staff to transport more animals to/from adoption events held throughout the PG area.