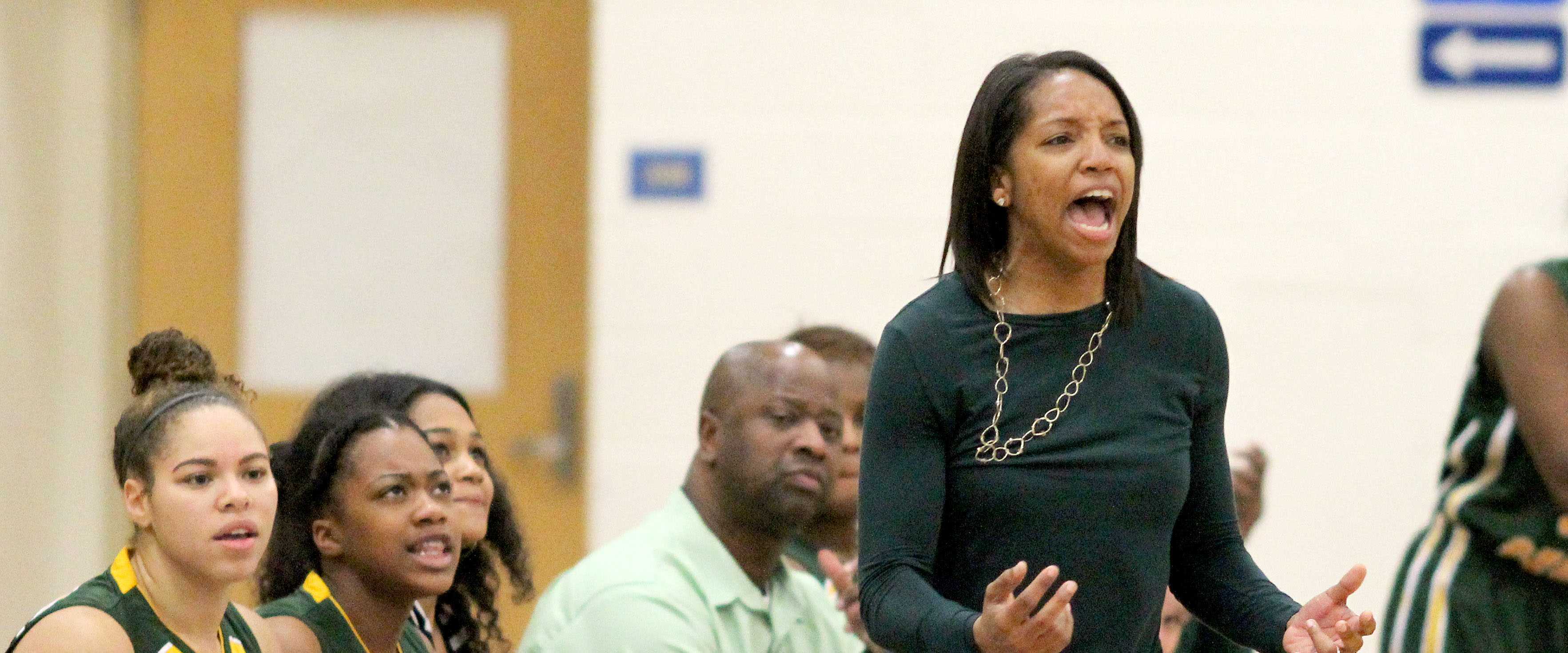 Shavohn Curley is the next up after former girls varsity basketball head coach Billy Gray stepped down from the position.
Curley comes from Hampton, Virginia. She played basketball at Virginia Commonwealth University on a full scholarship. Her first coaching job was at Hermitage High School for two years as an assistant junior varsity coach.
She proceeded to be the head coach at Essex High School for two years, and then went to Petersburg High School for three years as an assistant coach.
Coaching has many aspects that make the job both challenging and easy for her.
"The easiest is being around a sport I love, I like working with young people, and creating a positive family environment," Curley said. "[The most difficult is] trying to meet all their needs."
She sees the process of tending to each athlete's learning style as an obstacle that can be easily conquered.
Curley expects her team to not just blow up the victory column, which to her, is not the only way to win. She wants her girls to achieve academic success and reach their potential on the court.
"I'm expecting to have a successful year both on and off the court," Curley said. "Success isn't all about wins, if I see players growing, I feel that's part of our success."
Curley is hoping that first-hand experience will bring a positive force to her team.
"[I'm bringing] experience from being a player; a lot of things we do together are to create a family environment," Curley said.
She says she enjoys coaching because it is something she feels familiar with.
"I feel like it's something I know, but at the same time I feel like I'm learning," Curley said.
Sophomore Rayven Martin, junior Dieonjonai Haupt, and senior Lilliauna Hopkins feel their coach is making her goal of trying to create a family environment.
"She's the type that will bring us more together as a family than separate us," Martin said.
The way she brings her team together is why they say it was not difficult to transition to her coaching style.
"She brought us in as her own. We felt comfortable," Haupt said.
Her experience also helps the girls with learning more about the game.
"Her strength is in her knowledge from when she played. She brings us the experience from when she played," Hopkins said.
Another strength is showing her athletes the direction they need to go to get better.
"She is showing us what's right and how things are done," Haupt said.
The players have done everything they can to help Curley transition into her new role.
"We have been open to her opinions and her way of teaching us," Haupt said.
The team has responded in a positive manner to their new coach so far as the season begins to develop.
"[Our reaction has been] very positive, practice has been more productive, and we've come together more this year as a family," Hopkins said.
As for her future, Curley hopes that her success as a coach measures beyond the court for her athletes.
"[I see myself] hopefully playing for a state ring, and making sure the girls are getting to a good college and good education," Curley said.